News - October 2013
Big picture of all the birds during October 2013

Yellow-chevroned Parakeet

Southern Caracara

Narrow-billed Woodcreeper

Ringed Teal M

Ringed Teal F

Saffron Finch M

Hooded Siskin F

Hooded Siskin M

Wattled Jacana

Yellow-browed Tyrant


and many more here
Tadpoles at coypu Pond

© Gustavo F. Brahamian

© Gustavo F. Brahamian
The Fantasy Island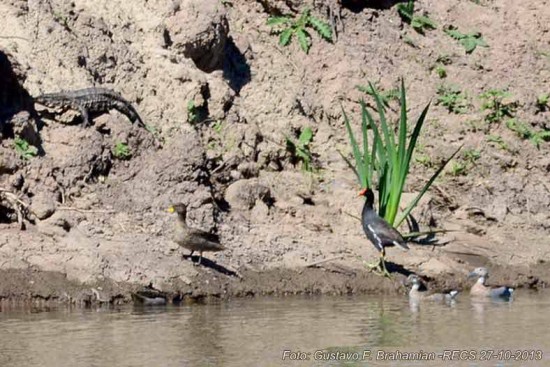 White-and-black Tegu Lizard
Tupinambis merianae, pair of Ringed Teal
Callonetta leucophrys, pair of Yellow-billed Teal
Anas flavirostris and Common Gallinule
Gallinula galeata © Gustavo F. Brahamian
Partial view of the Coypu Pond from the Lizard Path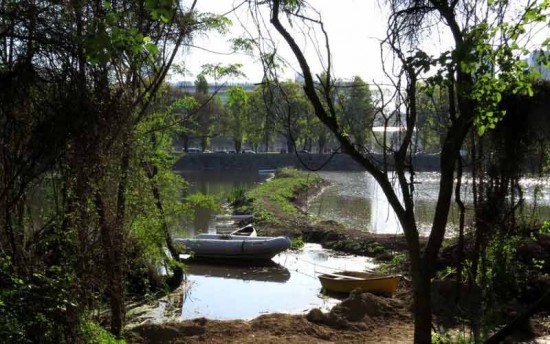 © Amelia Besana
Pseudoautomeris grammivora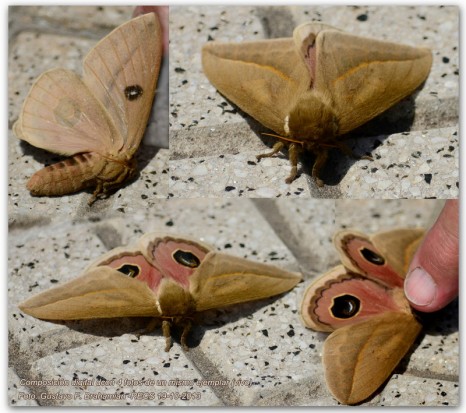 © Gustavo F. Brahamian
Flowers and their touch of colour
Cock spur tree
Erythrina crista-galli

© Germán A Etcheverry

Cock spur tree
Erythrina crista-galli

© Gustavo F Brahamian

Passion flower
Passiflora coerulea

© Germán A Etcheverry

Hairy indian mallow
Abutilon pauciflorum

© Germán A Etcheverry

Lantana
Lantana camara

© Germán A Etcheverry

Lantana
Lantana camara

© Gustavo F Brahamian

Silk floss tree
Chorisia speciosa

Opened fruit © Gustavo F Brahamian

Tree tobacco
Nicotiana glauca

© Gustavo F Brahamian


Lantana megapotamica

© Gustavo F Brahamian

Spanish broom
Spartium junceum

© Gustavo F Brahamian

Spanish broom
Spartium junceum

© Germán A Etcheverry

Black Locust
Robinia pseudoacacia

© Germán A Etcheverry

Austral elder
Sambucus australis

© Germán A Etcheverry

Austral elder
Sambucus australis

© Gustavo F Brahamian
Comparison among the bird surveys from 20/10/2012 and 5/10/2013 organized by the COARECS
With this fourth survey we can compare and analyze the data obtained during one year (October 2012-October 2013). The surveys have followed the same pattern. A survey is divided into 5 routes covering all the paths which are surveyed at the same time during the morning. There is a provisional count at midday and those who still want to may go on during the rest of the day to add more species. In October 2012 there was a nocturnal visit which was also included in the list. Unluckily this was not repeated in October 2013. Expectations for this survey were huge due to the works done at the Coypu Pond to inject water from the river. In fact, this attracted several water birds which did not stay long with the exception of yellow-billed teals which already formed two families one at each end of the pond and teh Southern lapwing which is also nesting. The works are very recent and the dynamic of the ecosystem is still to be recovered. Only the water is not enough. But judging by the initial results there is no doubt that the works have been successful and that the activity will back both in number of species as number of individuals as it once was. February will be our next challenge. The general result was 12 species more for 2013 (109-121). But the big difference was 15 species more of non-passeriformes (45-60), most of which were waterbirds. The jewel, the lesser yellowlegs. Instead three species less of Passeriformes were observed compared to last year (64-61). The absentees, some summer visitors which have not arrived yet. The gem, the diademed tanager which had not been seen for a very long time.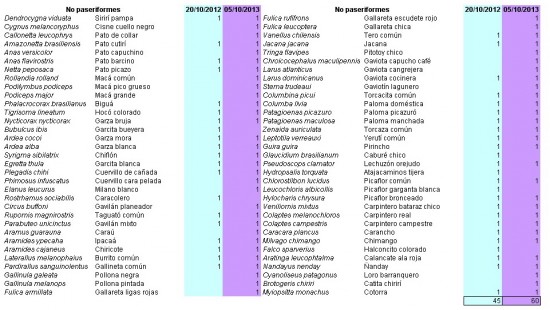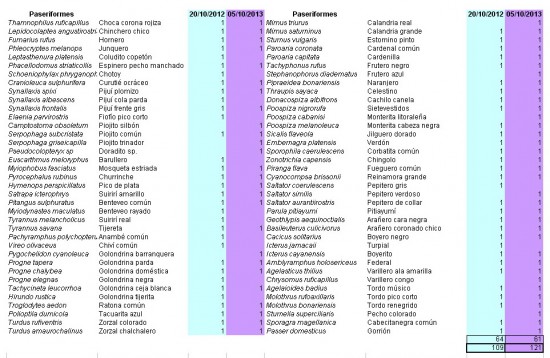 Survey on the 5th of October 2013 organized by the COARECS
121 species were counted. With this fourth survey by the COARECS a year is completed. The recovery of water in the Coypu Pond attracted a lot of "old" species of water birds which have settled yet. That's way several were absent on Saturday. But there is a promising future which, I have no doubt, will catch up with the "wet" days. It is a matter of time.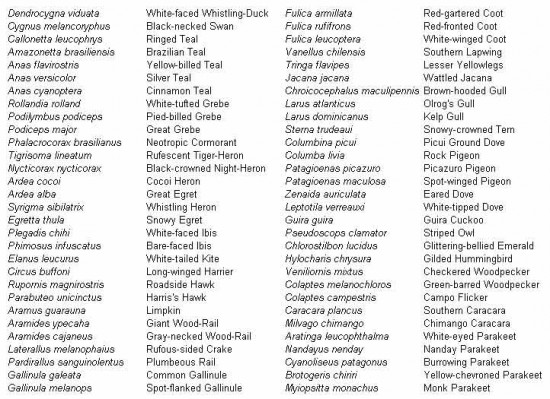 Non passeriformes

Passeriformes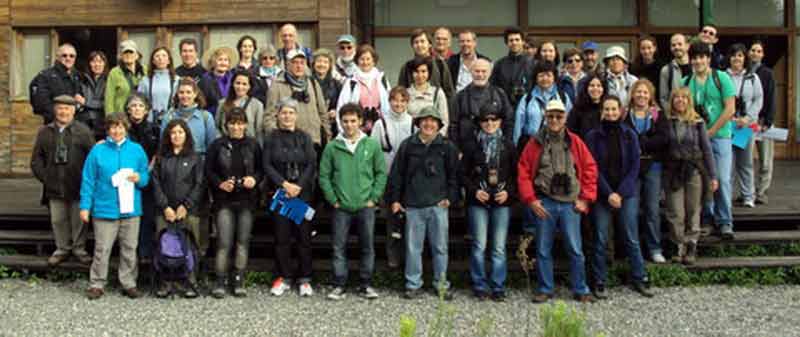 All the voluntaries who took part in the census day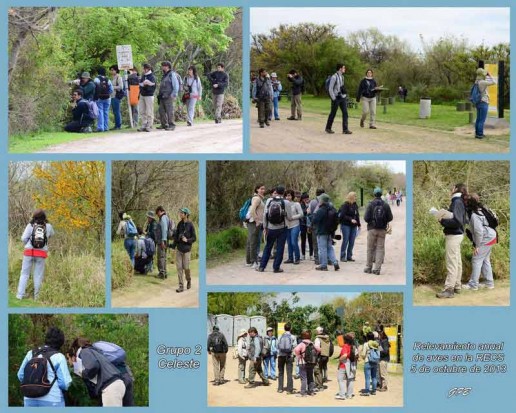 Circuit 2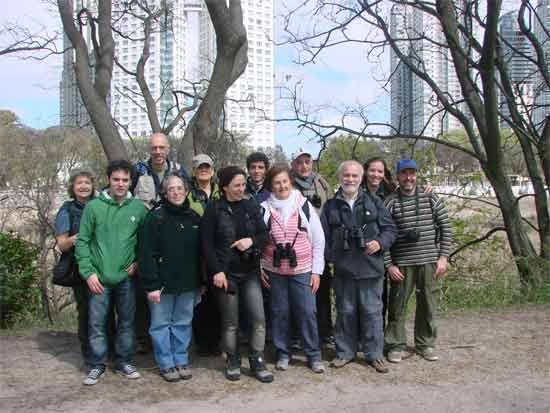 Circuit 3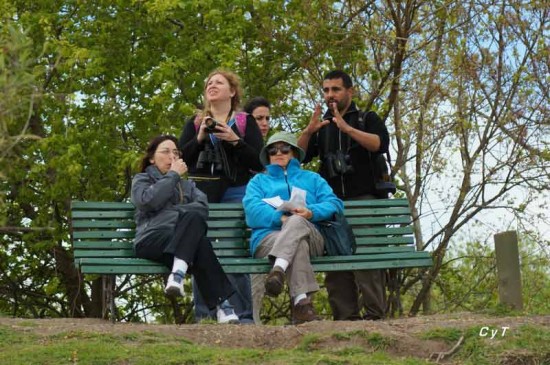 Circuit 4