News - May 2014
What birds are expected to arrive?
More birds have been added to the list. Clic on Winter birds and you will see the list
Banded Longwing
Heliconius erato phyllis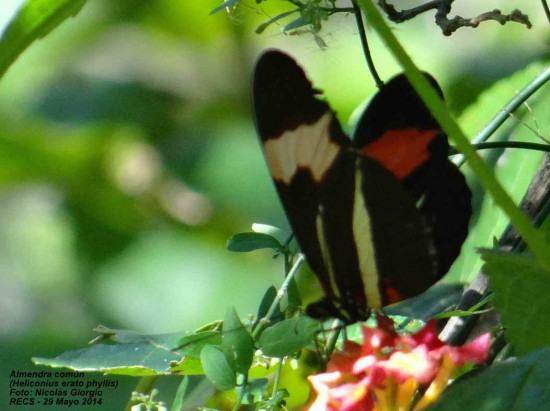 © Nicolás Giorgio
In this individual which is lapping lantana
Lantana camarawe can see that the red spot on the dorsal side has a different tone on the ventral one. CR
A few butterflies to close May
Thoas Swallowtail
Heraclides thoas thoantiades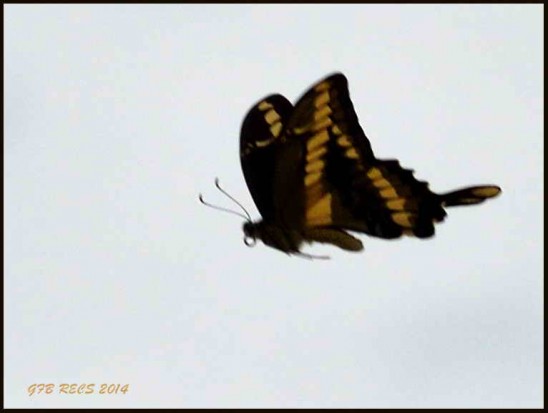 © Gustavo F. Brahamian
Mexican Silverspot
Dione moneta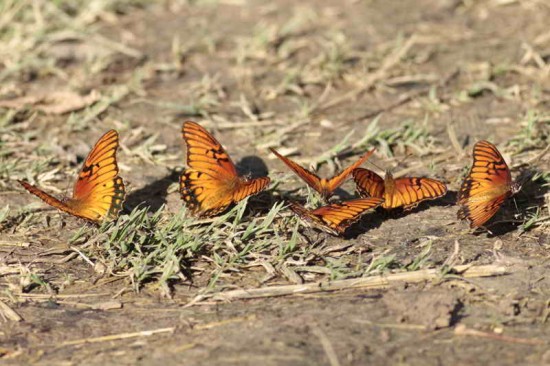 © J. Simón Tagtachian
Southern Buckeye
Junonia genoveva hilaris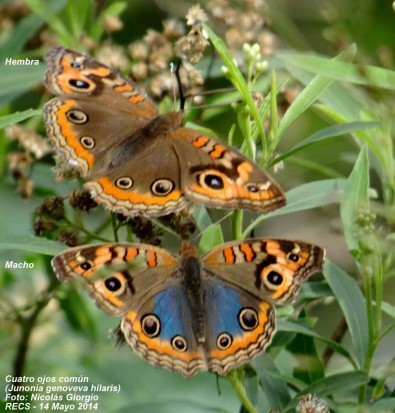 Female brown, male blue © Nicolás Giorgio
Painted Turtle
Trachenys scripta dorbignyi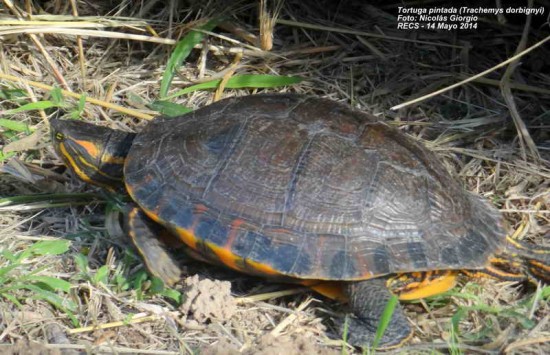 © Nicolás Giorgio
New butterfly species: Banded Longwing
Heliconius erato phyllis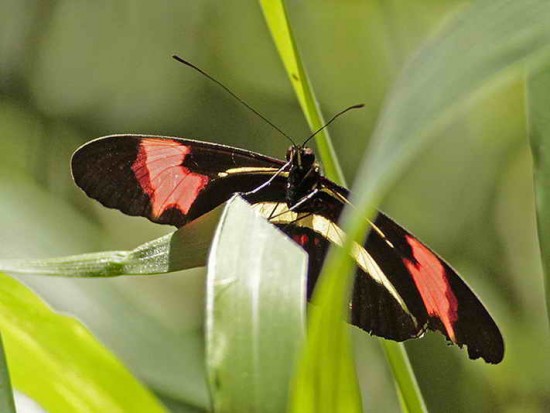 © J. Simón Tagtachian
Works in the Coypu Pond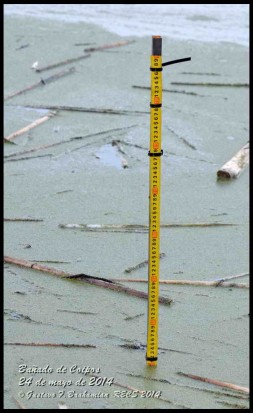 © Gustavo F Brahamian
The work in the pond advances slowly but steadily. The spot of water widens and in some sectors it reaches the opposite edge. Unluckily it is not the same for Viamonte Canal, where no movement is seen. The Viamonte Canal is the access for the water coming from the river. If there is no pumping the future of the Coypu Pond will depend on the climatic conditions. A measuring rod has been placed in the pond. It marked 70 cm on 24th of May
Pseudoautomeris grammivora caterpillar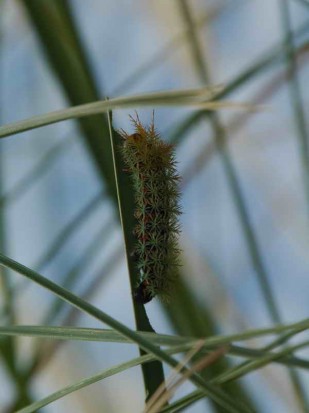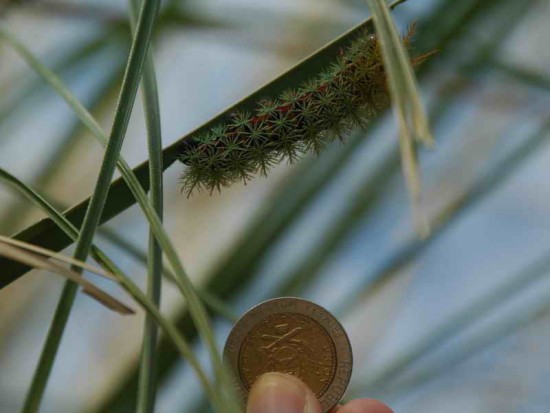 © Flor
Works at Coypu Pond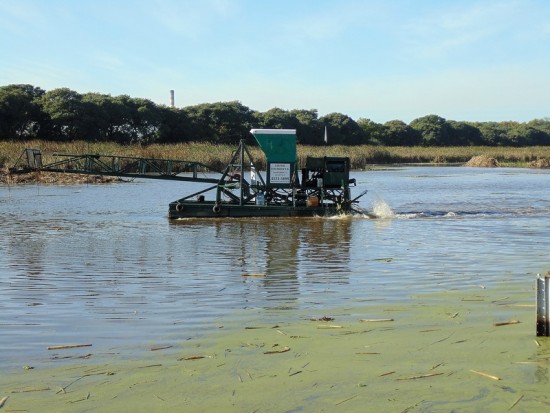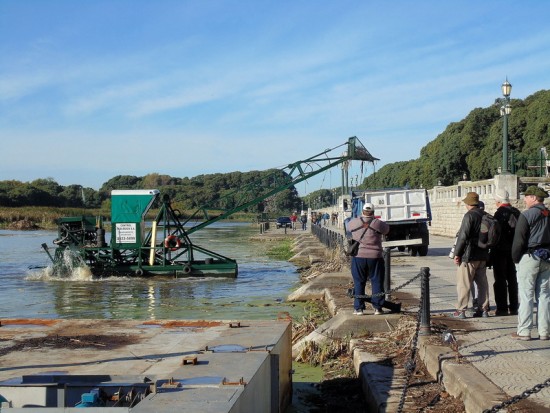 © Marcelo Castro
Machines keep removing cattails from the pond
© Rodolfo Pani
A bad sign
On Saturday at midday Simón and Emilio witnessed a very a sad event. As no more water was pumped into the Canal Viamonte the canal was slowly getting dry and destroying everything that had been gained during these monthes. Unluckily fish were stuck in a small pool of water and struggled for life. They informed the personnel so that they could act accordingly.
Ver material de J. Simón Tagtachian
On Tuesday Simón went back to the area and saw there were clear signs something had been done. Most fish had been removed but for a few dead ones.
New Moth species:
Philoros affinis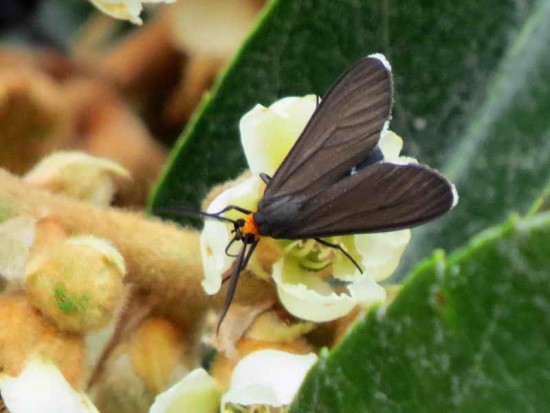 © Claudia y Tito Di Mauro
New butterfly species: Poltys Satyr
Parypthimoides poltys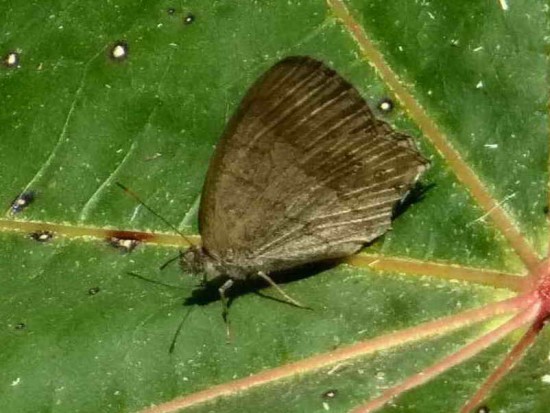 © Victoria Mansilla
Remus Greenstreak
Cyanophrys remus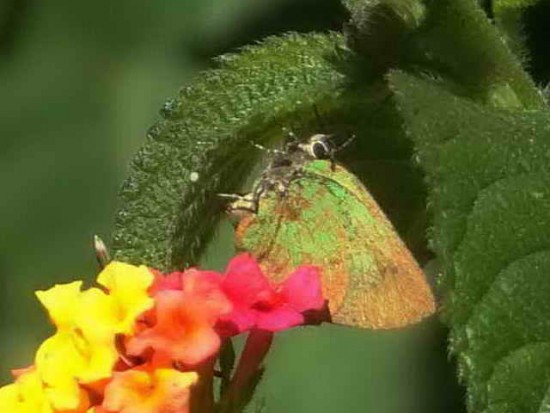 Lycaenidae, the family this greenstreak belongs to, lay only one egg at a time. © Victoria Mansilla
Butterflies in May
Julia
Dryas iulia alcionea

© J. Simón Tagtachian

Lantana Scrub-Hairstreak
Strymon bazochii

Hembra © J. Simón Tagtachian

Cloudless Sulphur
Phoebis senna marcellina

© J. Simón Tagtachian

Ithra Crescent
Ortilia ithra

© J. Simón Tagtachian

Fawn-spotted Skipper
Cymaenes odilia

© Victoria Mansilla

Gulf Fritillary
Agraulis vanillae maculosa

© Nicolás Giorgio

Southamerican Lady
Vanessa braziliensis

© Victoria Mansilla

Chilean Lady
Vanessa carye

© Sergio Cusano

Bella Mapwing
Hypanartia bella

© J. Simón Tagtachian

Lyssipoides Metalmark
Riodina lyssipoides

© Nicolás Giorgio

Monarch
Danaus erippus

© Victoria Mansilla

Common Yellow
Eurema deva

© J. Simón Tagtachian

White-patched Duskywing
Chiomara autander autander

© J. Simón Tagtachian

Whirlabout
Polites vibex catilina

© Victoria Mansilla

Common Lazy
Actinote pellenea

© Victoria Mansilla

Canna Skipper
Quinta cannae

© Victoria Mansilla

Monarch
Danaus erippus

It was born with few scales © J. Simón Tagtachian

Common Lazy
Actinote pellenea

Aberration © J. Simón Tagtachian

Mexican Silverspot
Dione moneta

© Gustavo F. Brahamian

Southern Buckeye
Junonia genoveva hilaris

© J. Simón Tagtachian
Two caterpillars
Leucanella
Leucanella viridiscens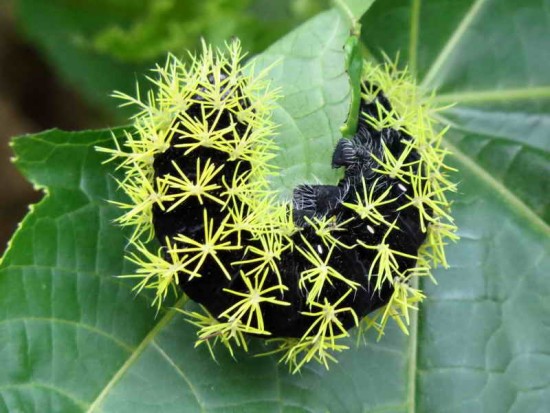 Last month we saw this caterpillar eating leaves of the Cockspur Tree
Erythrina crista-galli. On this occasion it is the turn of the Castor oil plant
Ricinus communis © Claudia y Tito Di Mauro
Rothschildia
Rothschildia jacobaea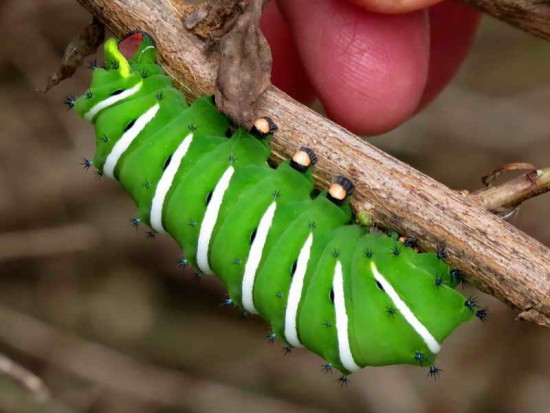 © Claudia y Tito Di Mauro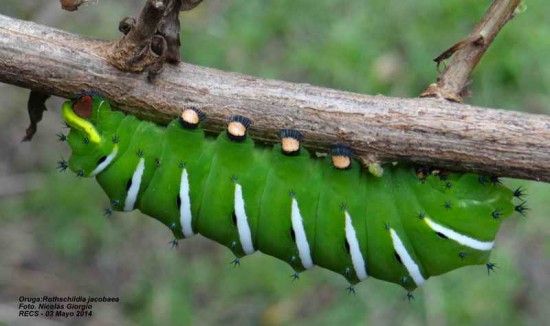 © Nicolás Giorgio
World Migratory Bird Day - May, 10th and 11th
On the the second weekend each May the World Migratory Bird Day takes place. This event has the objective to raise awareness about birds and the need to preserve their habitats. The theme chosen for this occasion "Destination Flyways: Migratory Birds and Toursim links sustainable tourism and birdwatching as a harmonic solution both to preserve migratory birds and their habitats and as a way to develop the involved communities. Festivals, exhibitions, watching trips and educational events will be held worlwide. In Costanera Fundación de la Tierra invites kids