News - February 2015
Two spinetails
Sooty-fronted Spinetail
Synallaxis frontalis© Hugo Aguilar


© Dolores Fernández
Spix's Spinetail
Synallaxis spixi© Elsa y Guillermo


© Cora Rimoldi
These spinetails are difficult to see. They restlessly move in the bushes which prevent a clear sight of them. With luck they expose for a little while. Their voices will certainly announce their presence. As voices are very different we will know whether it is the Spix's or the Sooty-fronted Spinetail. But if there is no voice one must be careful not to confuse them since they are very similar. The crown is one of the keys to bear in mind. If the rufous colour of the crown also covers the front, it is the Spix's Spinetail. If the front is grey instead, it is the Sooty-fronted as the name indicates.
The photos are for illustrative purposes
Tropical Parula
Setophaga pitiayumi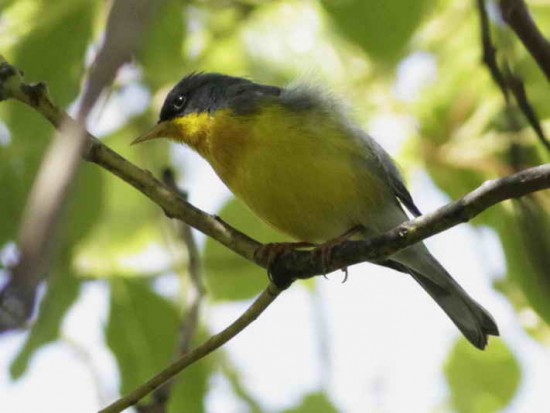 © J. Simón Tagtachian



© Cora Rimoldi
The photo is for illustrative purposes
Green-barred Woodpecker
Colaptes melanochloros
28-02-15 © Claudia y Tito Di Mauro
Woodpecker's fight
Limpkin
Aramus guarauna
24-02-15 © Claudia y Tito Di Mauro
A limpkin eating snails attract the attention of a great kiskadee and a common gallinule, which are tempted.
Least Grebe
Tachybaptus dominicus
28-02-15 © Claudia y Tito Di Mauro
This grebe is smaller than the White-tufted Grebe Rollandia rolland as shown by Claudia y Tito in the video. The yellow eye distinguishes from the other grebes among other things.
This Least Grebe is out of the area of distribution. In Argentina it covers an area in the north part of the country from the mountains to the east and reaches the south to the provinces of Santa Fe, Córdoba and Entre Ríos though not completely.
Rosy-billed Pochard
Netta peposaca
25-02-15 © Claudia y Diego Bastías
In this pochard family there are two fulvous whistling-duck chicks. The Fulvous Whistling-Duck may dump eggs in other birds' nests of its same species or not. This is not the first time we witness this event. There is a previous record of December 2009. On that occasion also a Rosy-billed Pochard was seen with a Fulvous Whistling-Duck chick among her ducklings.
The 2009 family
Ringed Teal
Callonetta leucophrys
22-02-15 © Cora Rimoldi
And now the final results of the Birding Challenge. Only one data: 118 bird species registered during the whole event. The winners of all categories and the detail of what was spotted by whom is on ecoregistros.org
And the Birding Challenge took place as planned on February 21st and 22nd. Two days birdwatching .
Very early in the morning when the RECS was not open yet many observers began from the sidewalk. At 8 o'clock sharp the reserve opened and the group entered for the inside walk. Some words in charge of one of the organizers, Jorge La Grotteria, and we left for Canal Viamonte. The dynamics of the group was such that the number of birders increased or decreased according to their needs.
Of course breakfast was a must to charge batteries. The day was beautiful, but it was already getting hot. And lunch could not be skipped either.
More than 110 bird species observed (heard, photographed and/or seen) during the event. Wednesday is the deadline to hand over the material. So by that time we will know the exact number of species. Anyway follow the provisional results
And now some gems of the event
Plants

Dolichandra cynanchoides © Sergio Cusano

Dolichandra cynanchoides © Sergio Cusano
Calico flower
Aristolochia elegans© Sergio Cusano
Striped rosemallow
Hibiscus cisplatinus© Victoria Mansilla
Catclaw mimosa
Mimosa pigra© Flor
Catclaw mimosa
Mimosa pigra© Flor
Balloon vine
Cardiospermum grandiflorum© Sergio Cusano
Pink flowered tweedia
Oxypetalum solanoides© Sergio Cusano
Yellow bird of paradise
Caesalpinia gilliesii© Sergio Cusano
Squash
Cucurbita maxima© Flor
Buttercup tree
Senna corymbosa© Sergio Cusano

Wedelia glauca © Sergio Cusano
Giant arrowhead
Sagittaria montevidensis© Sergio Cusano
Spanish dagger
Yucca gloriosa© Flor
Two new moths to the website
Macaria sp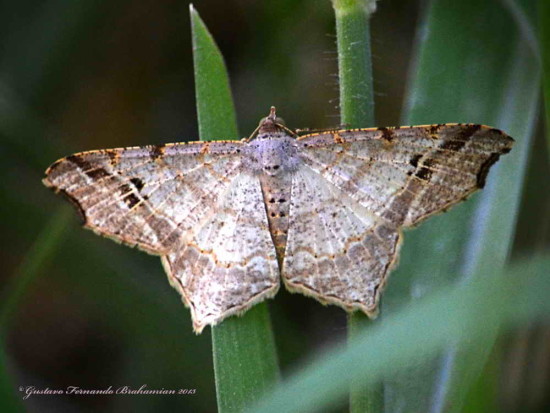 © Gustavo Brahamian
Ezequiel tells us that the moth on top is a Macaria belonging into the family Geometridae. The one below belongs into the family Crambidae and seems to be predated upon by a spider or a bug judging by its posture.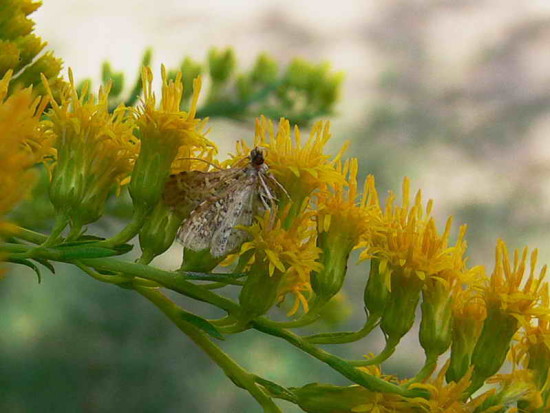 © Sergio Cusano
Butterflies of February
White-patched Duskywing
Chiomara autander autander© Sergio Cusano
Snout
Libytheana carinenta© Sergio Cusano
Poltys Satyr
Parypthimoides poltys© Victoria Mansilla
Poltys Satyr
Parypthimoides poltys© Victoria Mansilla
Ithra Crescent
Ortilia ithra© Gustavo F. Brahamian
Ithra Crescent
Ortilia ithra© Sergio Cusano
Fiery Skipper
Hylephila phileus© Gustavo F. Brahamian
Celmis Satyr
Ypthimoides celmis© Sergio Cusano
Chilean Lady
Vanessa carye© Sergio Cusano
Southamerican Lady
Vanessa braziliensis© Sergio Cusano
Eurytulus Scrub-Hairstreak
Strymon Eurytulus© Sergio Cusano
Lesbia Sulphur
Colias lesbia© Sergio Cusano
Claudina Crescent -Common Yellow
Tegosa claudina/Eurema deva© Victoria Mansilla
Monarch
Danaus erippus© Gustavo F. Brahamian
Gulf Fritillary
Agraulis vanillae maculosa© Flor
Gulf Fritillary
Agraulis vanillae maculosa© Sergio Cusano
Mexican Silverspot
Dione moneta© Sergio Cusano
Mexican Silverspot
Dione moneta© Sergio Cusano
Southern Buckeye
Junonia genoveva hilaris© Amelia Besana
Southern Buckeye
Junonia genoveva hilaris© Sergio Cusano
Rufescent Tiger-Heron
Tigrisoma lineatum
20-02-15 © Nicolás Giorgio
Dos registros importantísimos
Los fierritos siguen creciendo
Domestic Duck
Cairina moschata domestica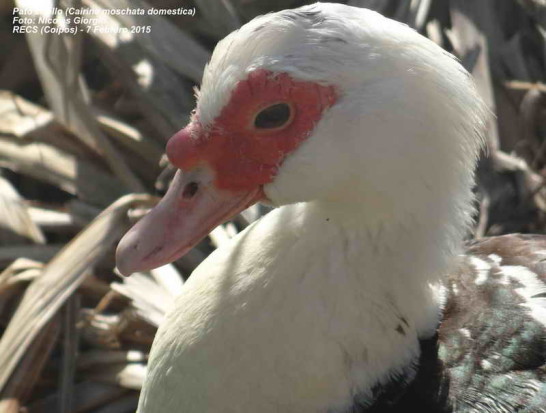 © Nicolás Giorgio
Neotropical Waterbird Census at RECS
On Saturday 7th the count of waterbirds was carried out. This event is organized by Wetlands International and coordinated by Aves Argentinas in our country.
As expected most waterbirds were registered early in the morning along the Coypu Pond. The Black-necked Stilt and the Roseate Spoonbills were the outstanding ones.
This colourful bug controls Pavonia sepium, the yellow flower in the picture. This mallow is native and invasive due to the great number of spiky seeds which attach to whatever passes near and may be dispersed far away. This bug feeds almost exclusively on the ovules, if the flower has not been fertilized yet, or the seeds. By controlling these two factors the plant is not that invasive. Being its primary food this bug is found where there is Pavonia sepium. In this case male and female are mating.
Domestic Duck
Cairina moschata domestica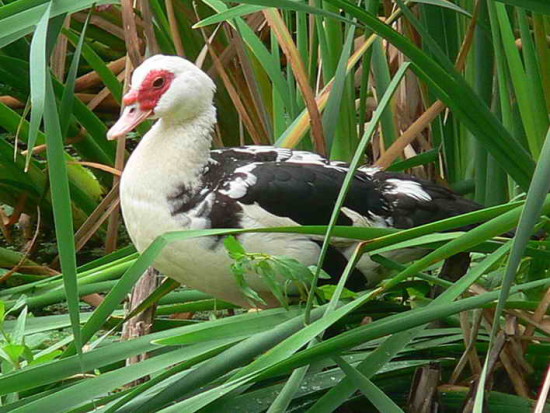 © Sergio Cusano