News - August 2015
A few butterflies
White-anged Sulphur
Anteos clorinde© J. Simón Tagtachian
White-anged Sulphur
Anteos clorinde© J. Simón Tagtachian
Remus Greenstreak
Cyanophrys remus© Gustavo F Brahamian
Lyssipoides Metalmark
Riodina lyssipoides© Victoria Mansilla
Southamerican Lady
Vanessa braziliensis© Sergio Cusano
Common Yellow
Eurema deva© Sergio Cusano
Tropical Parula
Setophaga pitiayumi
30-08-15 © Favio Gustavo Belotto
As I was greeting Walter, a security guard of the reserve, another guard approached him with a tropical parula he had found fallen on the ground. Walter took it to the Rehabilitation Center. I was very glad to see such good disposition towards the bird.
03-04-15 © Federico Andrés De Maio
Works on the coast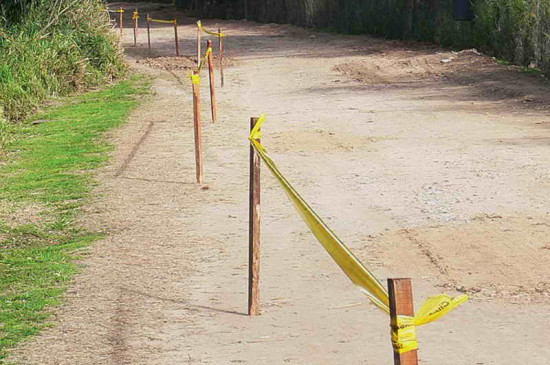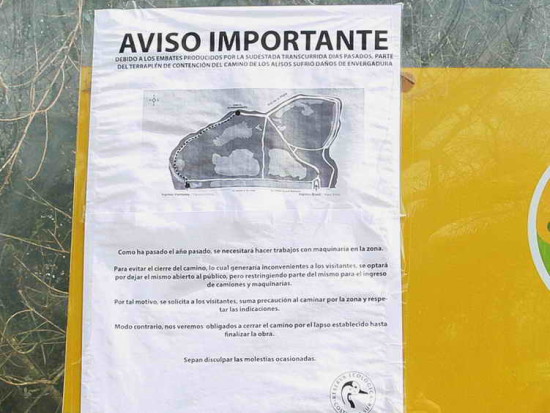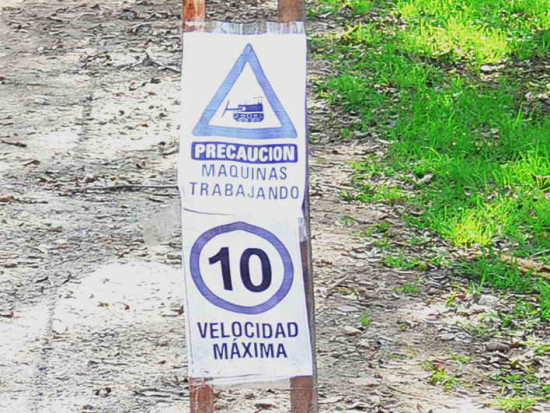 © Sergio Cusano
The coast has been affected by the heavy rains and the sudestada again and works to repair the area are being done. On this occasion the path was not closed and fences were set along the path to divide the transit for machines and people. Let's observe the regulation.
Series of photos by Hugo Aguilar
Photos of August beginning with a Vermilion Flycatcher, first photo of the 2015-2016 season. He adds the Grey-breasted Martins and as a bonus a July straggler.
Germán Pugnali tells us that "..in fact it was the humpback whale which took me to the reserve. I saw it in the docks at aprox 9 am. I took some photographs, though never in open waters. The best was a video I took just as it was leaving the docks in the direction of the piers. From there on I tried to follow it from the Recs but with no luck. I could only see the Prefectura boats, which makes me assume the whale was near. I do not know whether it did swim into open waters.

As I was trying to spot the whale I met Christian Bisiau. Only a bit later the tern flew over the fishermen's pier. We saw a slim Sterna with long wings and very long rectrices. It was pale grey with a black hood (may be partial) and a long and thin bill. I consulted with Luis Pagano and we believe that the chances to consider it other species but a Sterna hirundinacea are low. I took some photos but they are not conclusive.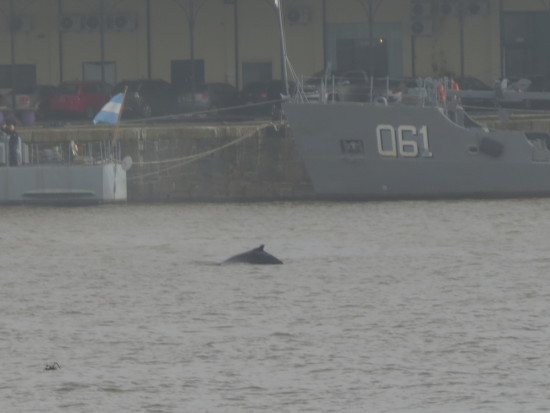 © Germán Pugnali
© Germán Pugnali
It is time to put the winter birds list away and take out the summer birds' one. We already have two swallows and almost the vermilion flycatcher. It has not been watched in Costanera but very near at Ribera Norte.
Atypical Ducks 3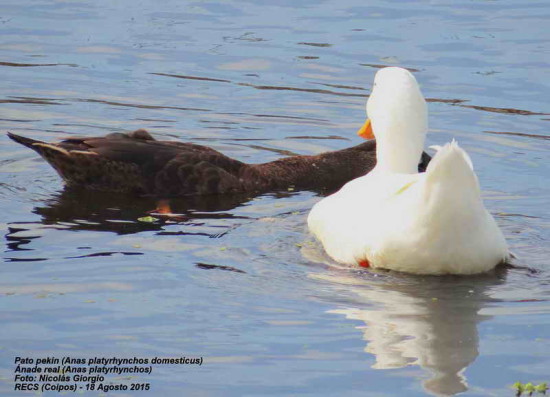 © Nicolás Giorgio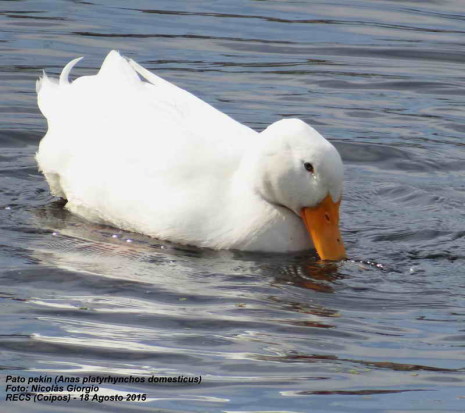 © Nicolás Giorgio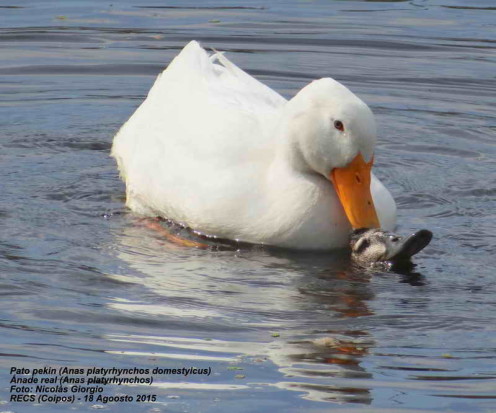 © Nicolás Giorgio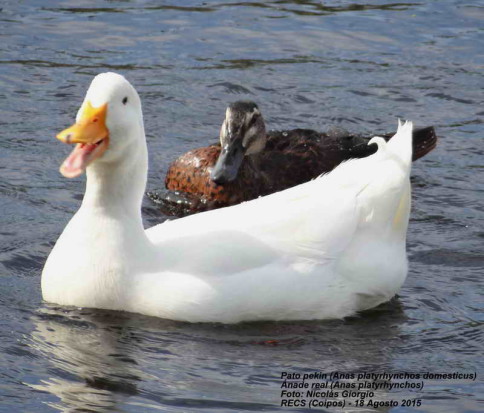 © Nicolás Giorgio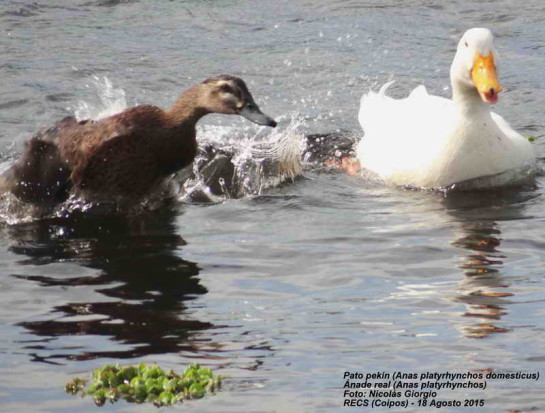 © Nicolás Giorgio
Both in Atypical Ducks and in Atypical Ducks 2 and in Pekin Duck some commentaries are made on their characteristics and history of these domestic ducks.
We know they come from the same species
Anas platyrhynchos and that they are the result of domestication by man. For this reason they are not included in field guides and are not well appreciated in reserves.
This Pekin male had already mated with its pair in January 2015. They were not lucky since all eggs disappeared. Further attempts to breed were not detected till Nicolás registered this event with a change of actors on Tuesday 18th.
He tells us that the mallar duck and the pekin duck were navigating in the pond and the other pekin duck was a bit far away. Within a fraction of a second the mating scene begins. The female shows receptive, the male mounts her, grasps her by the neck with the bill and after mating, the triumphal clousure.
¿What will result of this union if it thrives? We will be attentive.
Campo Flicker
Colaptes campestris
27-08-15 © J. Simón Tagtachian
Coypu
Myocastor coypus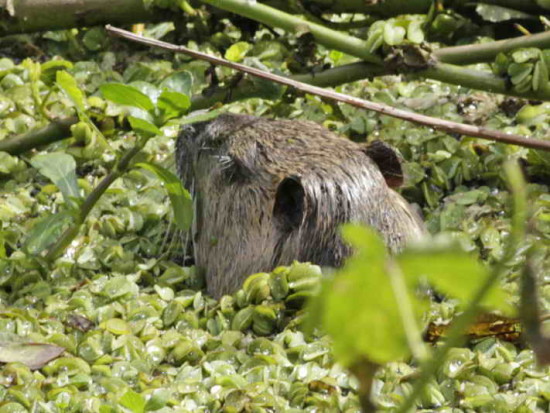 © J. Simón Tagtachian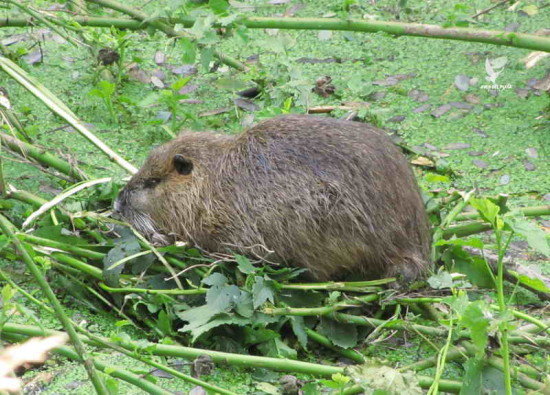 © Claudia y Diego Bastías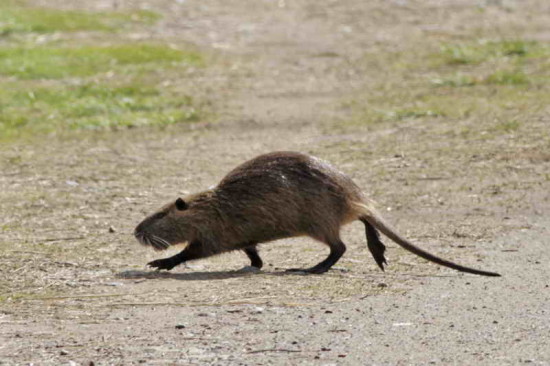 © J. Simón Tagtachian
Views of Coypu Pond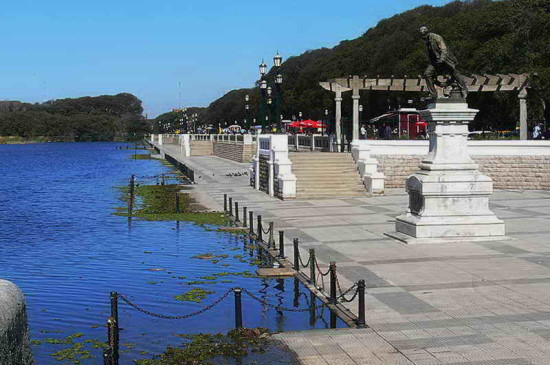 © Sergio Cusano
21 de agosto - El agua sigue sobre la vereda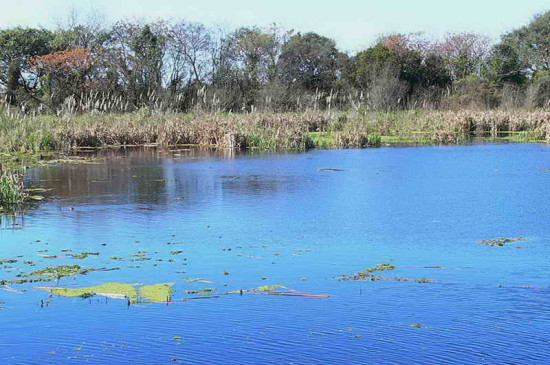 © Sergio Cusano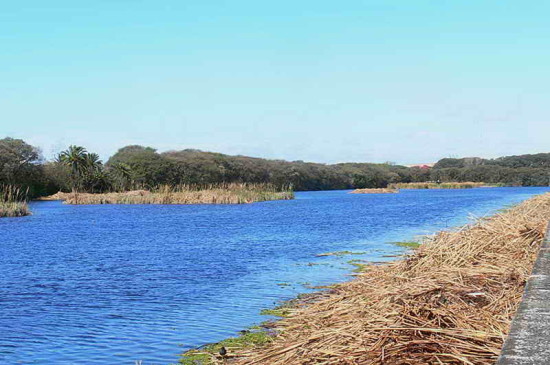 © Sergio Cusano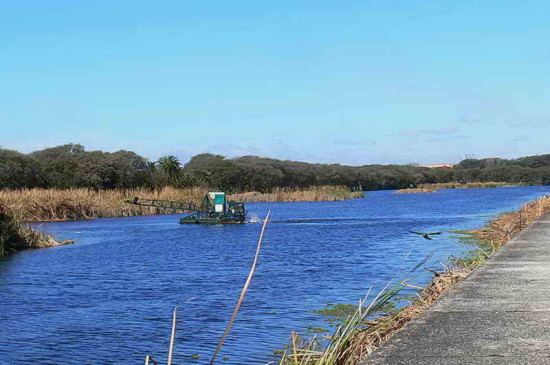 © Sergio Cusano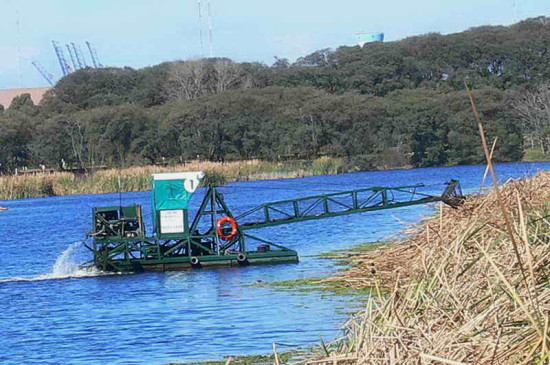 © Sergio Cusano
Work by Ezequiel Núñez Bustos on the Butterflies of the RECS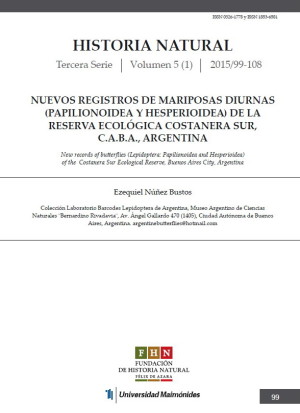 Some butterflies and a turtle
Dichrous Skipper
Theagenes dichrous© Victoria Mansilla
Mexican Silverspot
Dione moneta© Victoria Mansilla
Chilean Lady
Vanessa carye© Victoria Mansilla
Bella Mapwing
Hypanarthia bella© Victoria Mansilla
Claudina Crescent
Tegosa claudina© Victoria Mansilla
Side-necked Turtle
Phrynops hilarii© Nicolás Giorgio
Green Kingfisher
Chloroceryle americana
17-08-15 © Federico Andrés De Maio
17-08-15 © Federico Andrés De Maio
And on Monday the reserve was open
the lake duck was still there and more....
Coypu
Myocastor coypus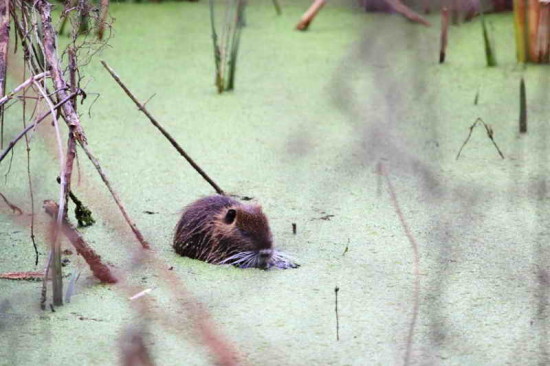 © Elsa y Guillermo
Views of the sidewalk
Today, Saturday 15th, is the first sunny day after some 10 rainy days. The reserve was closed. The water level has changed little since August 11th.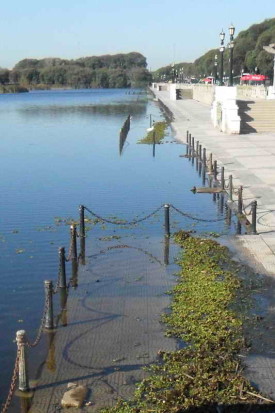 © J. Simón Tagtachian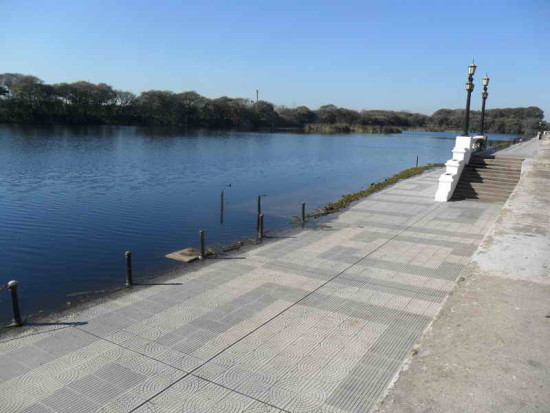 © J. Simón Tagtachian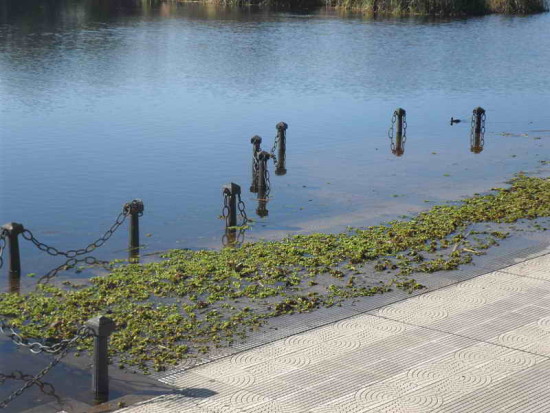 © J. Simón Tagtachian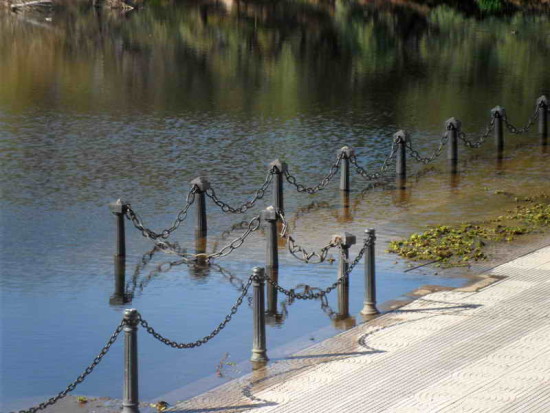 © J. Simón Tagtachian

In today's photo the meter rule is illegible. But from Gustavo's photo with the brand new meter rule we can deduce that water level reaches 1,26m.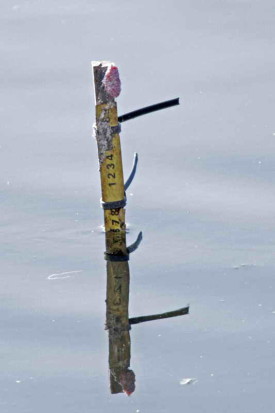 © J. Simón Tagtachian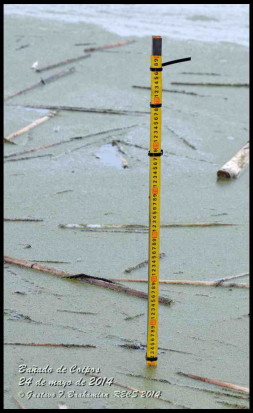 © Gustavo F Brahamian
Rain aftermath at the RECS It has been raining for a week now. This phenomenon covered a wide area and flooded several towns, which resulted in over a 10.000 evacuees mainly from the Provincia de Buenos Aires. At the reserve rainfall raised the water level of the pond flooding the sidewalk.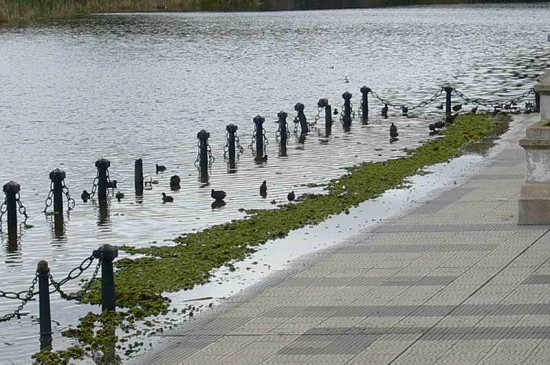 11-8-2015 © Sergio Cusano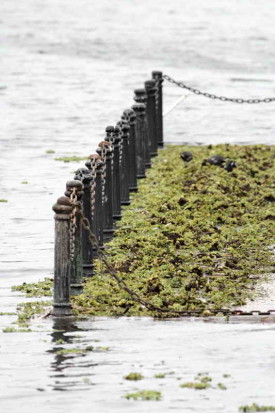 8-8-2015 © J. Simón Tagtachian

See more photos of the rain aftermath and the sidewalk flooded on a previous occasion
© Claudia y Diego Bastías
Almost a new mammal species: Humpback whale
Megaptera novaengliae It certainly passed very near, but we have no record to prove it. Unusual, unexpected this whale surprised everybody. It entered the harbour at the north end, where the Buquebus terminal is, through Grierson Bridge into the Dam 4. where the Marine is. Specialists of different organizations and National Organisms along with Prefectura Naval Argentina monitored the state of the animal and tried to guide it into open waters. Freshwater is not the appropiate environment for this whale and a long stay could put it into risk. Fortuantely they seemed to have done it.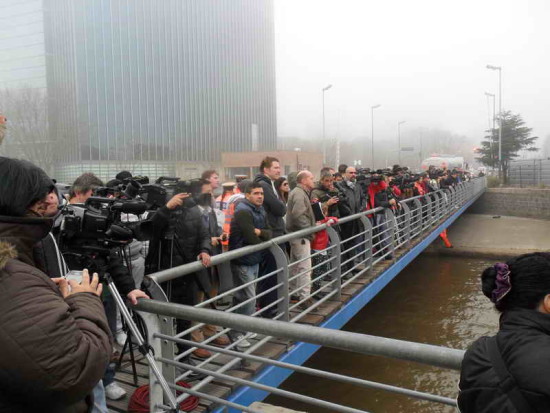 Simón went to the area. The bridge was full of onlookers anxious to see such a spectacle, but the whale did not turn up.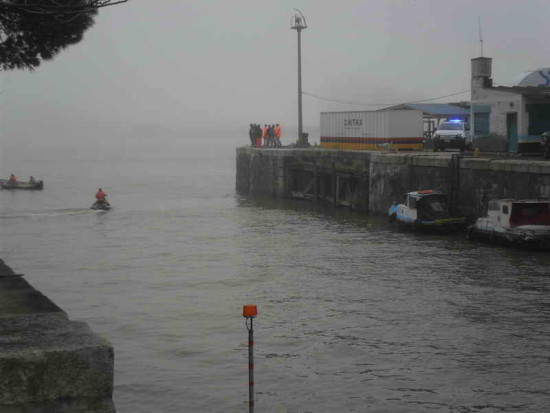 At the entrace of the canal Prefectura personnel can be seen on boats.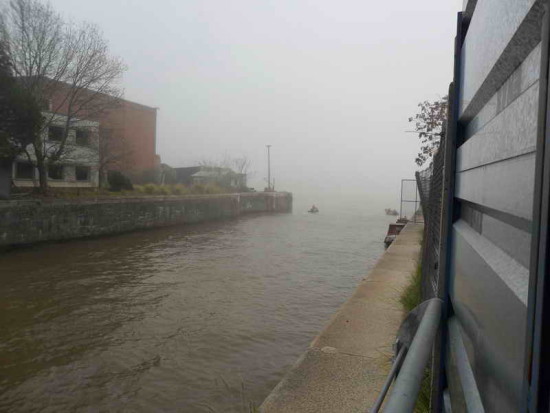 © J. Simón Tagtachian
Here three of the common blackbirds in the reserve. The three of them are males. As a bonus the female of the Unicoloured Blackbird. It is the easiest of all three to identify. As soon as the other two show we will see the differences