News - November 2018
Other fauna

Coypu
Myocastor coypus

© J. Simón Tagtachian

Brazilian Guinea pig
Cavia pamparum

© J. Simón Tagtachian

Black-and-white Tegu Lizard
Salvator merianae

© J. Simón Tagtachian

Black-and-white Tegu Lizard
Salvator merianae

© Nicolás Giorgio

Side-necked Turtle
Phrynops hilarii

© J. Simón Tagtachian

Painted turtle
Trachemys dorbigni

© Héctor García

Painted turtle
Trachemys dorbigni

© Nicolás Giorgio

Painted turtle
Trachemys dorbigni

© Nicolás Giorgio

Urutu pit viper
Bothrops alternatus

© Nicolás Giorgio

Urutu pit viper
Bothrops alternatus

© Nicolás Giorgio
Flora

Striped rosemallow
Hibiscus cisplatinus

© J. Simón Tagtachian

Striped rosemallow
Hibiscus cisplatinus

© J. Simón Tagtachian

Prosopis
Prosopis sp

© J. Simón Tagtachian

Tree tobacco
Nicotiana glauca

© J. Simón Tagtachian

Pope of the river
Stigmaphyllum littorale

© Carlos González Ledo

Pope of the river
Stigmaphyllum littorale

© J. Simón Tagtachian

Pickerel weed
Pontederia cordata

© J. Simón Tagtachian

Longflower tobacco
Nicotiana longiflora

© J. Simón Tagtachian

Fiddlewood
Cytharexylum montevidense

© J. Simón Tagtachian

Cattail
Typha sp.

© J. Simón Tagtachian

False loosestrife
Ludwigia elegans

© Carlos González Ledo

Cockspur tree
Erythrina crista-galli

© J. Simón Tagtachian

Indian shot
Canna indica

© J. Simón Tagtachian

Tree of heaven
Ailanthus altissima

© J. Simón Tagtachian

Dandelion
Taraxacum officinale

© J. Simón Tagtachian

Dandelion
Taraxacum officinale

© J. Simón Tagtachian

Moonflower
Ipomoea alba

© J. Simón Tagtachian

Spanish broom
Sparitum junceum

© J. Simón Tagtachian

Wild teasel
Dipsacus fullonum

© J. Simón Tagtachian

Ocean blue morning flower
Ipomoea indica

© Carlos González Ledo

Nasturtium
Tropaeolum majus

© J. Simón Tagtachian

Nasturtium
Tropaeolum majus

© J. Simón Tagtachian

Tuna
Opuntia sp

© Nicolás Giorgio

Tuna
Opuntia sp

© Nicolás Giorgio

Magnolia
Magnolia grandiflora

© Nicolás Giorgio

Magnolia
Magnolia grandiflora

© Nicolás Giorgio
Rufescent Tiger-Heron
Tigrisoma lineatum
13-11-18 © Nicolás Giorgio
Swainson's Flycatcher
Myiarchus swainsoni
17-11-18 © Cora Rimoldi
We detected the flycatcatcher by its voice. It was difficult ot find it. In the audio below three different vocalizations
17-11-18 © Cora Rimoldi
Diademed Tanager
Stephanophorus diadematus
17-11-18 © Cora Rimoldi
Carpintero campestre - Estornino pinto
Green-barred Woodpecker
Colaptes melanochloros
14-02-13 © Amelia Besana
El 30 de setiembre encontramos un carpintero campestre construyendo un nido en una tipa de la vereda. El carpintero campestre no es común como el carpintero real, por lo tanto que estuviese anidando era una alegría. Por h o por b o por mal tiempo recién hoy volví. Pensaba encontrarlo alimentando a los pichones. En cambio, había un estornino alimentando a la cría.
The three coots
Fulica spp.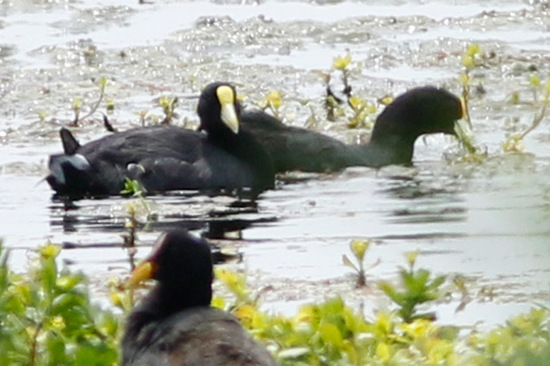 6-11-18 © J. Simón Tagtachian
Two white-winged coots above and a red-fronted coot below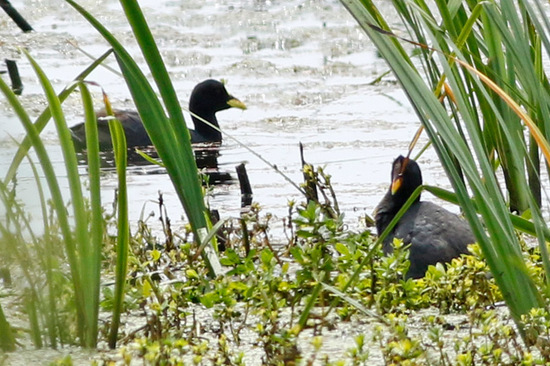 6-11-18 © J. Simón Tagtachian
A red-gartered coot on the left and a red-fronted coot on the right
European Starling - Rufous Hornero
Sturnus vulgaris - Furnarius rufus
Marcelo's video shows the most negative aspect of the European Starling in the reserve. The eviction of a native species - a Rufous Hornero from his nest
27-10-18 © Marcelo Gavensky
I was shocked because the fight was long, even much longer. A starling went out and threw the chick to the floor. Only one hornero stayed. I think the starling killed the other one which remained dead inside. Very, very shocking.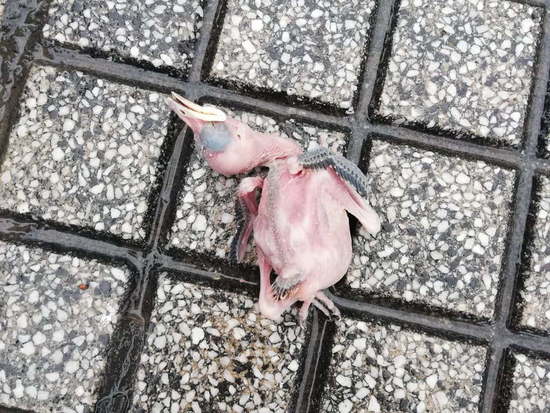 27-10-18 © Marcelo Gavensky
It was the new nest in the front, outside the reserve. The horneros brought food to the chick. The starling goes in and the horneros get desperate. One of them gets into the nest and fights the starling. " M. Gavensky
27-10-18 © Marcelo Gavensky
Inside the Gull Pond almost 40 individuals
One silver teal and two yellow-billed teal families
At Canal Viamonte a pair with three ducklings
In the Coypu Pond there was only one adult with one duckling.
A stork with a neck swollen by something fighting to escape. It turned out a big eel which, once expelled and reswallowed, insisted on staying kick and alive in the pond. Finally the stork gave itself up and took flight with an empty crop.