Order: Passeriformes (Oscines) - Family: Thraupidae Status: Summer Resident. Habitat: Bushland
All records since January 2014
Sounds

© Norberto Oste
© Norberto Oste
Adult male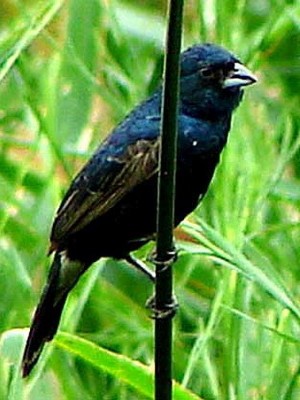 © Jorge García Vicente
Shiny bluish-black. Dark brown wings. Black tail. White shoulders and underwing coverts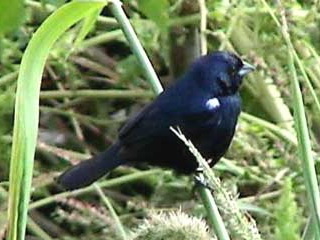 © Norberto Oste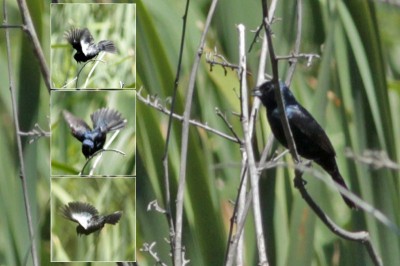 © J. Simón Tagtachian
Performas vertical flights vocalizing and falling on to the same perch
Adult female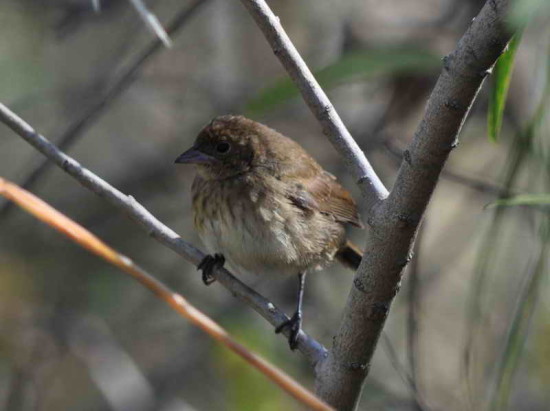 © Martín Ferrari
Brown back. Ochraceous underparts. Breast streaked brown. Brown tail. Faint white eye-ring
Juvenile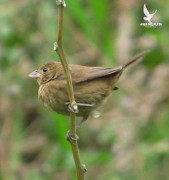 © Claudia y Diego Bastías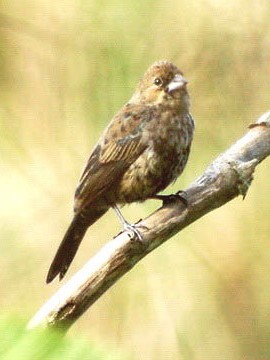 © Pablo Alberto Meoniz

© Amelia Besana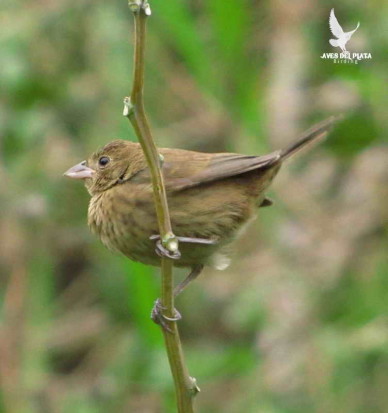 © Claudia y Diego Bastías
On May 19th Diego photgraphed this bird on Canal Viamonte Path where the lantanas are the meeting point for butterflies. There it was feeding on moths. The bill did not fit for a small bird usually seen in Costanera. He consulted Jorge La Grotteria and Luis Pagano who coincided that this was a juvenile Blue-black Grassquit. This young may have not migrated back to the north. This species comes to the south to reproduce and at that time it is found in the center and north of the country till the Provincia de Buenos Aires.
Male and female look quite different. The male is shiny bluish black and the female is brown, generally speaking. It is typical of this bird to jump up from its perch showing its white axillaries and underwing coverts.
Jorge told us that a register of this bird had been sent to his web site www.ecoregistros.org. This female was photographed on April 11th by Martín Ferrari, whom we thank for letting us share it here. Ideal to see the characteristics of a female. Brown at the back and buff below with heavy streaks. Weak eyering.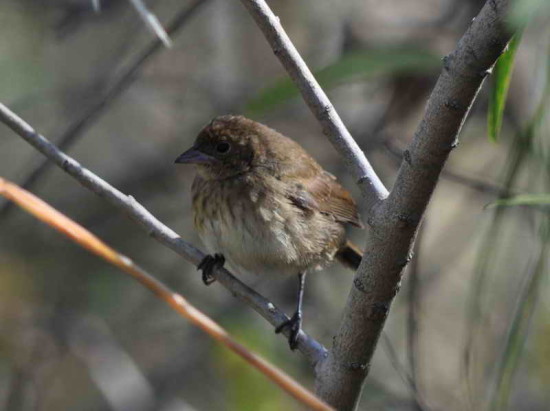 © Martín Ferrari
Previous records
12-2009 © Amelia Besana
1-2007 © Hugo Hulsberg
1-2007 © Jorge García Vicente
12-2006 © Pablo Manuel Fernández
2-2006 © Norberto Oste
1-2006 © Alberto Gurni
10-2005 © Pablo Alberto Meoniz
10-2005 © Pablo Alberto Meoniz