Order: Gruiformes - Family: Rallidae
Habitat: Ponds and marshes
Initially place in Porhyriops it was merged into Gallinula in the '70. Now it is again placed in Porphyriops based on morphological and molecular phylogenetic data
All records since January 2014
Sounds

© José L. Merlo
 
 
 
Adult

Plumbeous. Black loral and forehead. Short green bill
10-2009 © C. Di Mauro

Brown back. White spots on flanks
8-2010 © Carlos Gonzalez L.

8-2010 © Carlos Gonzalez L.
Reproducción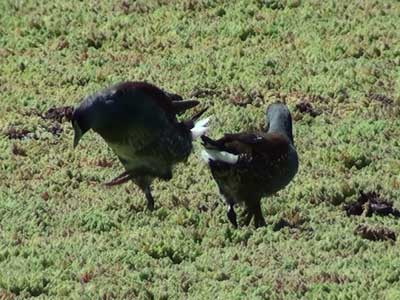 © Roberto Ares
The female stimulates the male showing receptiveness. With the back arched, the rigid wings a bit raised as if touching the tips at the back and the head lowered. The male perceives the female´s disposition and follows her. They engage in a merry-go-round movement and after three turns the female stops to be mounted.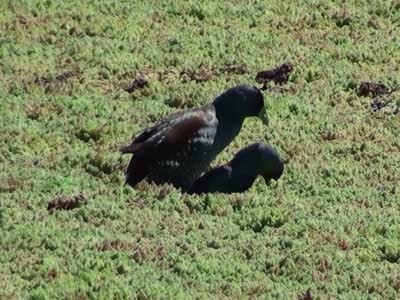 © Roberto Ares
The female does not dip the head into the water. As the action is finished the female goes away with a wing shuffling. The male makes a bow display arching his body and lowering the head.
© Roberto Ares
Chicks and young
© Carlos González Ledo
© Gustavo F. Brahamian
© J. Simón Tagtachian
© J. Simón Tagtachian
© Sergio Cusano
© Jorge La Grotteria
Fight between Spot-flanked Gallinules
Gallinula melanops
The story of the gallinules begins peacefully when parents were feeding and teaching the chicks to eat (the one of the photo above) at the Brasil Access. I was leaving when I saw a spot-flanked gallinule coming along the promenade and began to fight one of the parents. At the beginning I thought these were domestic problems but the aggression escalated and they engaged fiercely as if they had something to solve. It clearly seemed a dispute between the males over a territory or women. At first it seemed a cockfight. At a point the female took part and the final battle continued on the aquatic vegetation for almost 5 to 10 minutes.
It ended with a short run to the left and with the chicks' father as the winner.
Photos and story © Carlos González Ledo