Order: Passeriformes (Oscines) – Family: Icteridae
Status: Resident – Frequent – Breeder. Habitat: Bushland, grassland and embankments
Sounds

10 seconds – 136 kb
© Diego Caiafa
14 seconds – 88 kb
© José L. Merlo
10 seconds – 69 kb
© José L. Merlo
10 seconds – 67 kb
© José L. Merlo
Adult

7-2006 © Cristian Bannier

Brownish-gray upperparts. Black lores and tail. Rufous remiges. Ash-grey underparts
10-2006 © Roberto Ares

3-2004 © Hugo Hulsberg
Breeding

3-2007 © Hugo Hulsberg

12-2006 © Amelia Besana

2-2013 © J. Simón Tagtachian
Parasitism
© Milano-Muszkats
A juvenile of Screaming Cowbird on top and a Bay-winged Cowbird, below. The Screaming Cowbird parasitizes almost exclusively the Bay-winged Cowbird. The juveniles of these two species are quite alike till the Screaming Cowbird acquires black spots.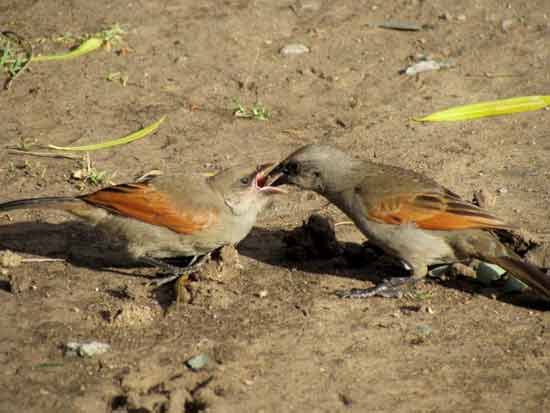 © Carlos Gonzalez Ledo
The Bay-winged Cowbird, instead, practically changes into the adult plumage
Nest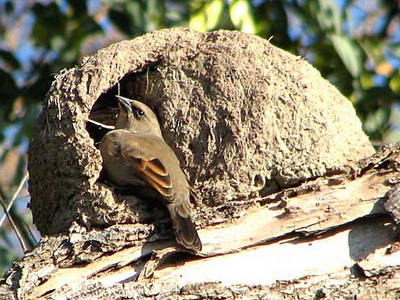 © Hugo Hulsberg
© Mirta Ragonesi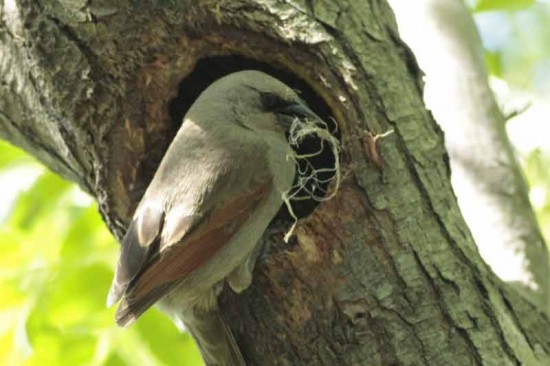 © J. Simón Tagtachian
The Bay-winged cowbird reuses the nests of other species to breed. Here we have records of reutilization of Rufous Hornero's, Great Kiskadee's and Green-barred Woodpecker's nests. Some remodelling is enough to make it ready for use.
Bay-winged Cowbird - Agelaioides badius

,