Long-tailed Reed-Finch
Donacospiza albifrons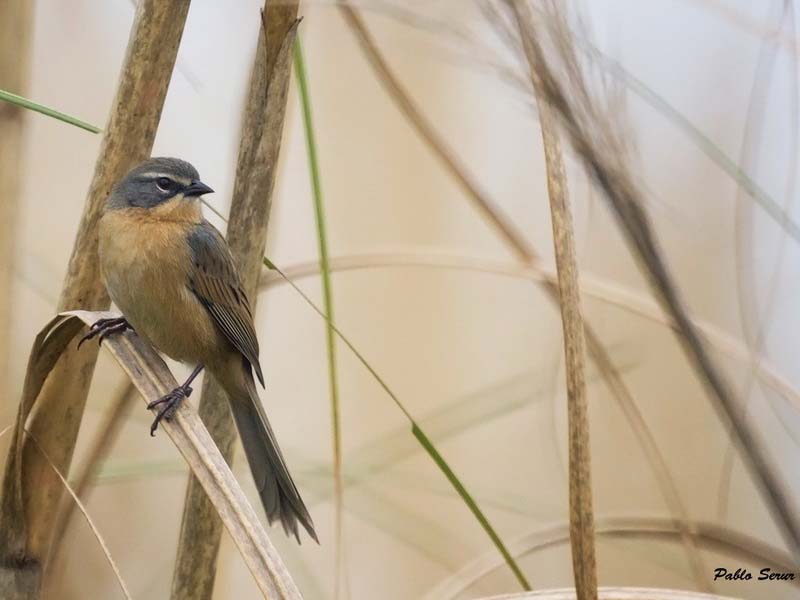 © Pablo Serur
Urutu Pit Viper
Bothrops alternatus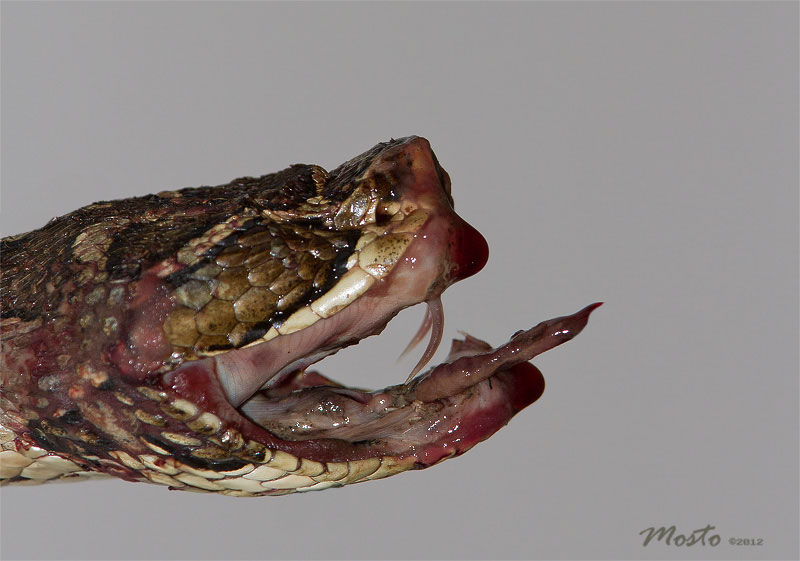 Pablo tells us "We found this pit viper dead at the road junction on the coast. It was bitten to death. I don't know when it happened but it seemed recently."
The Urutu Pit Viper is a venomous snake. That's why, we must be careful in case we find an individual. It is advisable to report it immediately to the Reserve staff so that it might be captured by trained people. NEVER do it yourself. Bites may cause very serious consequences.
Lucas Damer, who was trained at the Instituto Malbrán to handle this type of situations, explains to us that the bite of this snake must be treated within the first eight hours so that symptons can be taken in good time. This viper's venom is hemotoxic, which causes skin necrosis and produces internal bleeding.
In case of a bite it is IMPERATIVE to take the bitten person to the Hospital Muñiz, center especialized in snake accidents – Uspallata 2272, to be treated with antivenom as soon as possible. How to help:
DO NOT APPLY A TOURNIQUET
DO NOT INCISE THE BITTEN SITE
DO NOT SUCK THE POISON OUT OF THE WOUND
WASH THE WOUND AND TAKE THE BITTEN PERSON TO THE HOSPITAL
Venom is inoculated through the fangs. The fangs are sited on a small jawbone, which rotates. If the mouth is shut, the fangs remain folded along the upper mandible and are not visible. When the mouth is opened, they move to a perpendicular position. As the jaws open widely too, the fangs can inject venom deep into the prey's flesh. They have an inner duct that connects to the venom gland. This gland is behind the eyes, that is why it looks like an arrowhead.
Be cautious!
© Pablo Mosto – Texto: Cora Rimoldi
Hepatic Tanager
Piranga flava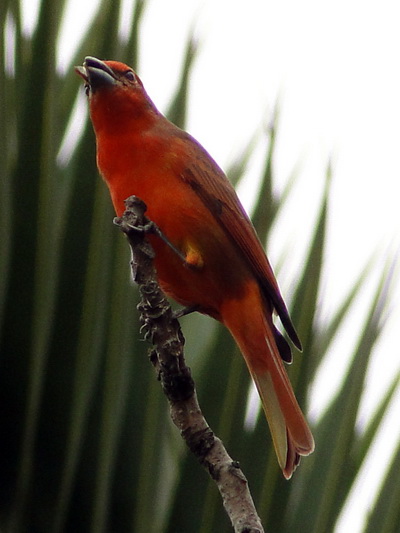 Male
© Dolores Fernández
Blue-billed Black-Tyrant
Knipolegus cyanirostris
Female
© Pablo Mosto
Female
© Pablo Mosto
Great Pampa-Finch
Embernagra platensis

© Pablo Mosto

Green-winged Saltator
Saltator similis

© Pablo Mosto

Ultramarine Grosbeak
Cyanocompsa brissoniiMale
© Pablo Mosto
Yellow-winged Blackbird
Agelasticus thiliusFemale
© Pablo Mosto
Southern Caracara-Chalk-browed Mockingbird
Caracara plancus-Mimus saturninus
The mockingbird confronts the Caracara this time
The voice of the mockingbird led me to a caracara which was tearing off leaves and branches. The yells attracted another five mockingbirds. From a dried tree they swooped down on the caracara. Like the Chimango Caracara, the Southern Caracara ignored the attacks even the overt ones. The caracara kept pulling branches for a while and then left.
© Pablo Serur
Fawn-breasted Tanager
Pipraeidea melanonota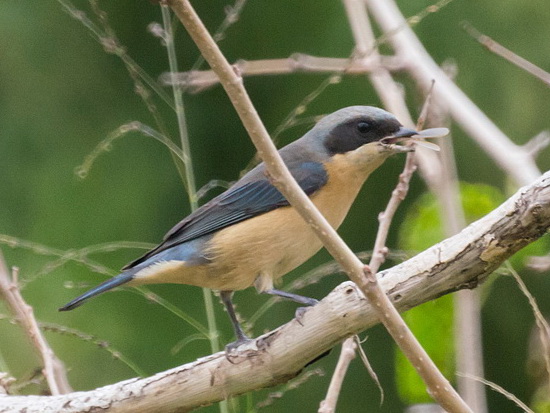 © Pablo Serur
Campo Troupial
Icterus jamacaii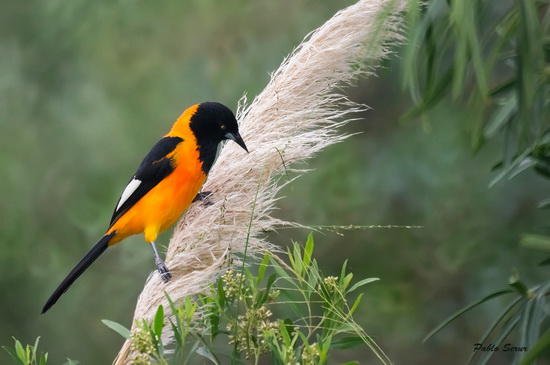 © Pablo Serur
Orange-backed Troupial
Icterus croconotus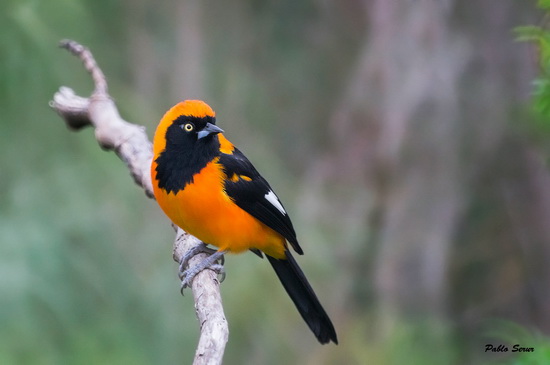 © Pablo Serur
Orange-backed Troupial
Icterus croconotus
© Pablo Serur
Puddles: public areas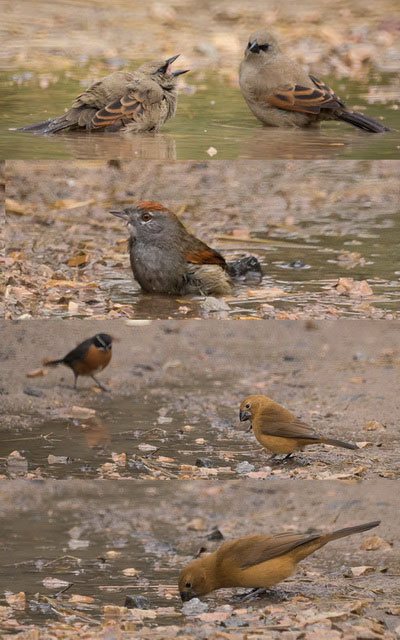 A characteristic feature of puddles is that they gather birds. There they go to bathe: a way to keep their feathers fit. These are neutral areas, where the degree of conflict seems null. No bothering, no interfering, each one in his own business. The priority is a valueless treasure for birds: their feathers.
In the same puddle a Bay-winged Cowbird and a Sooty-fronted Spinetail in a dip. Standing or squatting they splash water all over themselves. Once feathers are wet they move away to dry them. The Black-and-rufous Warbling-Finch is indecisive and the Ultramarine Grosbeak approached only to take a sip. Not far away was a male Ultramarine Grosbeak which flew by and was joined by the bird in puddle. The doubt is: Is this grosbeak a female or a juvenile? Last month both were photographed.
© Pablo Serur
Chotoy Spinetail
Schoeniophilax phryganophillus

© Pablo Mosto

© Pablo Mosto
Yellow-browed Tyrant
Satrapa icterophrys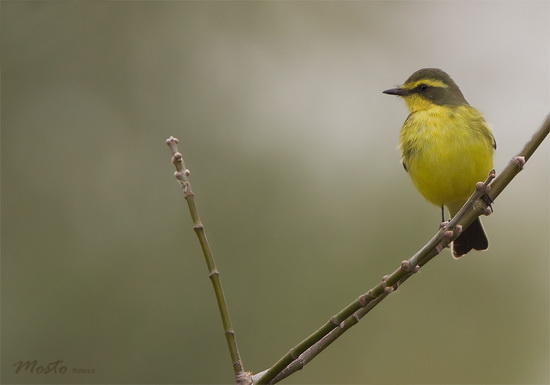 © Pablo Mosto
Chicli Spinetail
Synallaxis spixi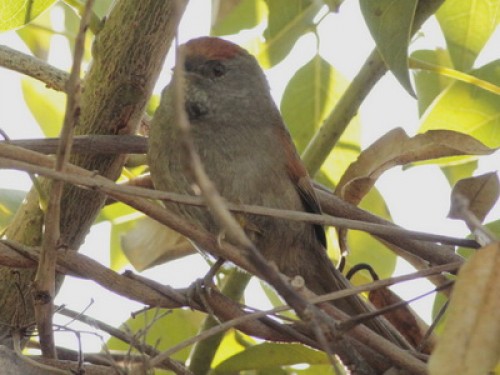 © J. Simón Tagtachian
Long-tailed Reed-Finch
Donacospiza albifrons

© J. Simón Tagtachian

© J. Simón Tagtachian
Roadside Hawk
Buteo magnirostris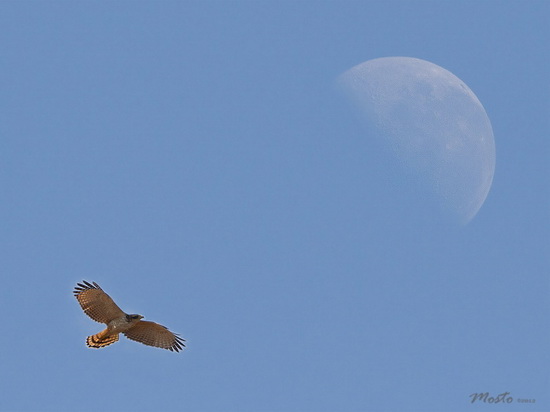 Juvenile
© Pablo Mosto
More winter visitors
White-tipped Plantcutter
Phytotoma rutila
Female
© Pablo Serur
Juvenile male
© Pablo Serur
Dark-faced Ground-Tyrant
Muscisaxicola macloviana

© Pablo Serur
Long-winged Harrier
Circus buffoni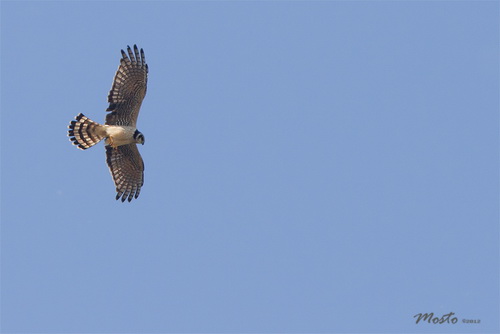 Light morph
© Pablo Mosto
Two tanagers
Sayaca Tanager
Thraupis sayacaEating the fruit of the Ear-leaved Nightshade Solanum mauritianum
© Pablo Serur
Blue-and-yellow Tanager
Thraupis bonariensisMale
© Pablo Serur
News - May 2012

,