Southern Lapwing
Vanellus chilensis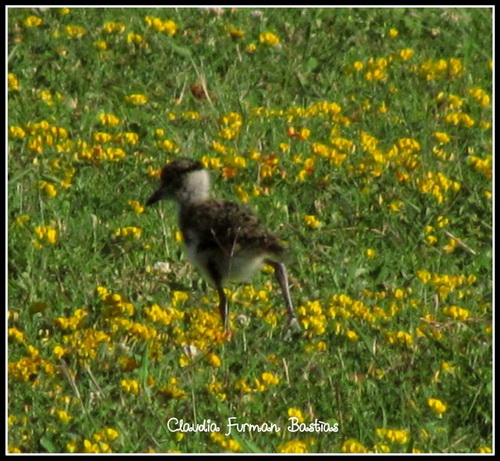 A chick photographed at Covimet last October, 2011
© Claudia Furman Bastías
Butterflies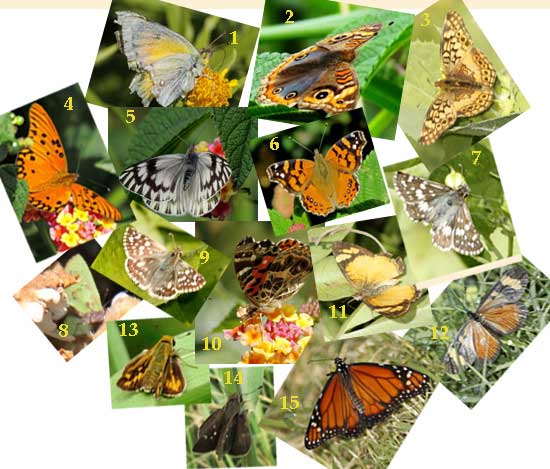 1 – Lesbia Sulphur (female) Colias lesbia – JST
2 – Southern Buckeye Junonia genoveva hilaris – CGL
3 – Southern Fritillary Euptoieta hortensia – JST
4 – Gulf Fritillary Agraulis vanillae maculosa – CGL
5 – Argentine White-milk Tatochila mercedis vanvolxemii – CGL
6 – Chilean Lady Vanessa carye – CGL
7 – Argentine Checkered Skipper Pyrgus orcynoides – JST
8 – Remus Greenstreak Cyanophrys remus – CR
9 – American White SkipperHeliopyrgus americanus bellatrix – JST
10 – Southamerican Lady Vanessa braziliensis – JST
11 – Claudina Crescent Claudina tegosa – JST
12 – Big Lazy Actinote pyrrha – JST
13 – Fiery Skipper Hylephila phyleus – CGL
14 – Eufala Skipper Lerodea eufala – CGL
15 – Southern Monarch Danaus erippus- JST
© CGL – Carlos Gonzalez Ledo © JST – J. Simón Tagtachian © CR – Cora Rimoldi
Chimango Caracara-Chalk-browed Mockingbird
Milvago chimango-Mimus saturninus

© Milano-Muszkats

© Milano-Muszkats

This Chimango Caracara sat on a Cock Spur Coral Tree occupied by Chalk-browed Mockingbirds. An unpleasant visitor for the mockingbirds. They tried hard to drive it away but failed. So they left the tree. As the owner of the place the Chimango stayed motionless for a while, took off and disappeared from sight.

Cinereous Harrier
Circus cinereus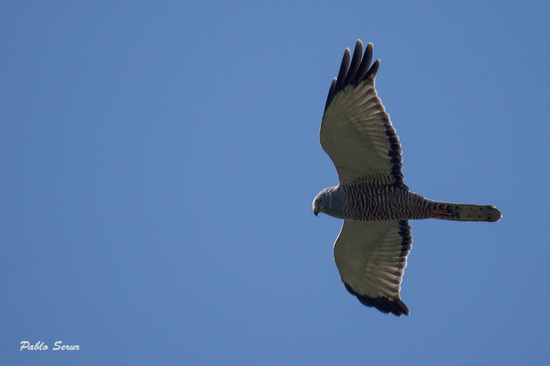 Male
© Pablo Serur
Yellow-chevroned Parakeet
Brotogeris chiriri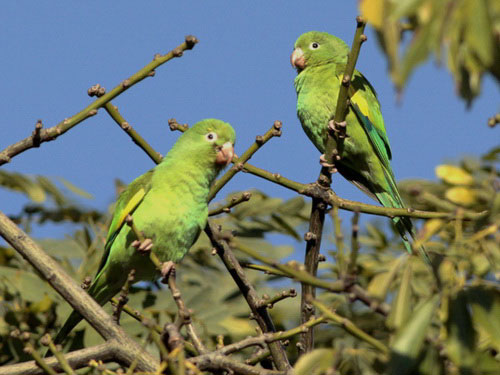 © J. Simón Tagtachian
American Kestrel
Falco sparverius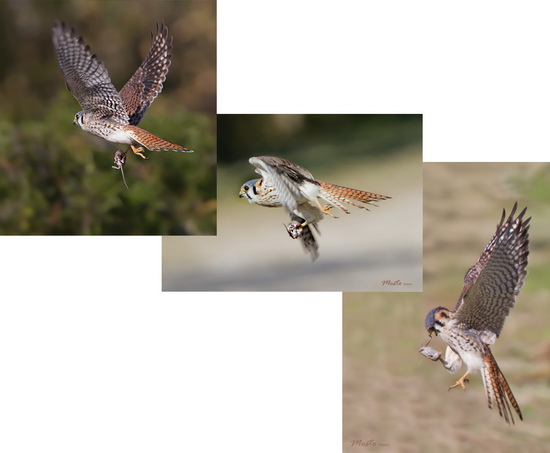 Three shots as it flew away with a prey in its claw
© Pablo Mosto
White-banded Mockingbird
Mimus triurus

© J. Simón Tagtachian

Celestino
Thraupis sayaca

© Carlos Gonzalez Ledo

Gray-necked Wood-Rail
Aramides cajanea

© J. Simón Tagtachian

Giant Wood-Rail
Aramides ypecaha

© J. Simón Tagtachian

Yellow-winged Balckbird
Agelasticus thiliusFemale
© J. Simón Tagtachian
Scarlet-headed Blackbird
Amblyramphus holosericeus
© J. Simón Tagtachian
Cocoi Heron
Ardea cocoi

© J. Simón Tagtachian

Common Moorhen
Gallinula chloropus

© J. Simón Tagtachian

Brazilian Teal
Amazonetta brasiliensis

© J. Simón Tagtachian

Neotropic Cormorant
Phalacrocorax brasilianus

© J. Simón Tagtachian

Many-colored Rush-Tyrant
Tachuris rubigastra

© J. Simón Tagtachian

Solitary Black Cacique
Cacicus solitarius

© J. Simón Tagtachian
Blue-and-white Swallow
Pygochelidon cyanoleuca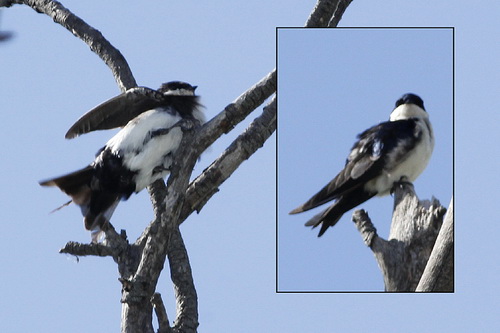 © J. Simón Tagtachian
Campo Troupial
Icterus jamacaii

© J. Simón Tagtachian

Blue-and-yellow Tanager
Thraupis bonariensisFemale
© J. Simón Tagtachian
Red-eyed Vireo
Vireo olivaceous

© J. Simón Tagtachian

White-winged Becard
Pachyramphus polychopterusMale
© J. Simón Tagtachian
Bare-faced Ibis
Phimosus infuscatus

© J. Simón Tagtachian

Epaulet Oriole
Icterus cayanensis

© J. Simón Tagtachian
Gilded Sapphire
Hylocharis chrysura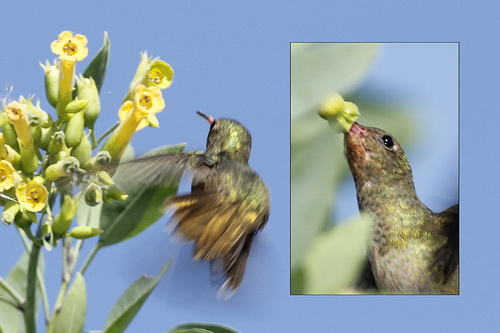 Lapping up a tree tobacco Nicotiana glauca flower
© J. Simón Tagtachian
Golden-crowned Warbler
Basileuterus culicivorus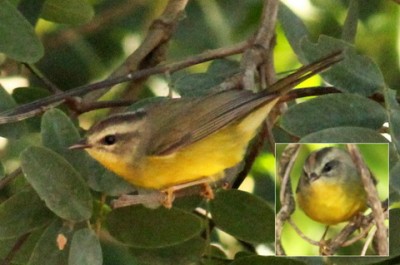 © J. Simón Tagtachian
Southern Caracara
Caracara plancus

© J. Simón Tagtachian

Harris's Hawk
Parabuteo unicinctusJuvenile
© J. Simón Tagtachian
Small-billed Elaenia
Elaenia parvirostris

© J. Simón Tagtachian

Tropical Parula
Geothlypis aequinoctialisMale
© J. Simón Tagtachian
Southern Monarch
Danaus erippus
This pair of Monarchs (male on the right and female darker on the left) is mating on a Lantana (Lantana camara). This is the condition sine qua non to initiate the life cycle of a new generation of Monarchs. Male and female back to back put into contact the tips of the their abdomens, where the copulatory organs are. They function like a key-lock system and must match perfectly. Otherwise the process of recognition, where pheromones and sounds have already proved effective, is interrupted. They remain attached in this position for a very long time till the sperm transference is finished. If they are bothered they move somewhere else without uncoupling.
Monarchs like all butterflies and many other insects are holometabolic. That is, to become a butterfly they undergo four phases: egg, caterpillar, pupa or chrysalis and finally adult or imago, the butterfly. We will be on the alert to capture the following phases.
Video © Roberto Ares – Texto: Cora Rimoldi
Thick-tailed Opossum
Lutreolina crassicaudata
Albino Thick-tailed Opossum: an unusual finding
Something white moved through the vegetation of the Viamonte Canal. Only when I saw its head did I associate it to an opossum. The Thick-tailed Opossum is not uncommon since it is a resident, but an albino individual in fact it is since they are not frequent in the wild. We could not see it in great detail so I might be confusing it with the white ferret, which is not at the reserve but it is presently being sold as a pet. So I consulted Marcelo Canevari, a specialist in mammals and author of several books, and Lucas Damer, a naturalist working at the reserve, to clear up the doubt. Both were of the opinion that it seemed an albino thick-tailed opossum.
Video © Roberto Ares – Texto: Cora Rimoldi
Ultramarine Grosbeak
Cyanocompsa brissonii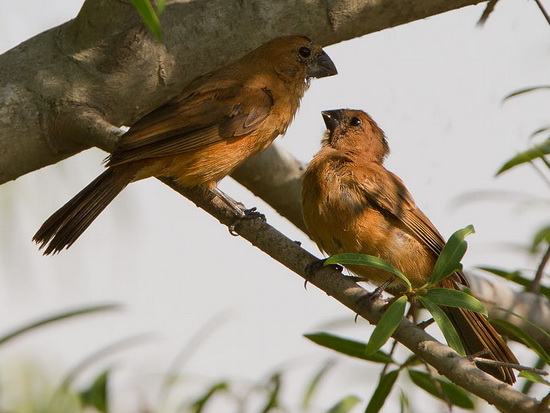 Female with fledgeling
© Pablo Mosto
Butterflies
Several butterfly species aggregated on the Baccharis, a native bush, along the Viamonte Canal. All of them were testing for nectar.
Butterflies feed by sucking up liquids, basically nectar, through a fine tube named proboscis. The proboscis is a very flexible "tongue" which is either practically extended when feeding (as seen in the video) or rolled up under the head when they are at rest. Its length varies according to the species and may even be absent.
Bees are also very loyal to the Baccharis. They are commonly seen exploring these bushes for food. Here a bee is attacked by a wasp. Difference in size between these two insects is significant. The action is very short and occurred so quickly that it was slowed down for a better view. The wasp seems to attack the bee in the eye. The perturbed bee moves to a nearby flower and the wasp disappears. An attack without an apparent cause?
Finally the last attack is between lazies (Actinote sp.). A sitting lazy is attacked by another lazy quite aggressively. A typical behaviour of this genus, which is said to be territorial. Anyway, the conflict is solved without major changes in the characters. The butterfly sitting on the flower could not be driven away and the attacker was content with the adjacent flower.
Video © Roberto Ares – Texto: Cora Rimoldi
News - April 2012

,