Brown-chested Martin
Progne tapera
Fotos © J. Simón Tagtachian

Two martin fledgelings wait for their parents to bring some food. A fledgeling is a young bird which has left the nest. It is feathered but is still cared for by the parents. An evident characteristic is the enlarged oral flanges at the base of the bill. This structure is enlarged integumentary tissue which passerine chicks have when they hatch and decreases as the young grows. It is normally yellow and it will be more or less bright depending on how well lit the nest is. It is believed to arouse parents to feed the young and to serve as a food target to place it properly. They differ in colour from their parents. Fledgelings are grayish whereas the adult is brown.
CR
New Butterfly species: Ivory
Eunica eburnea

© Silvia Vitale

© Silvia Vitale
Many-colored Rush-Tyrant
Tachuris rubigastra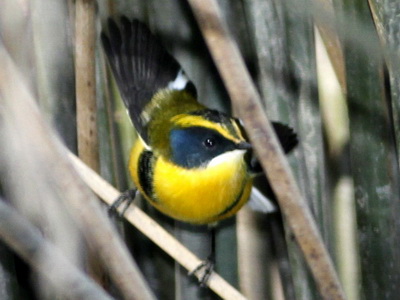 © J. Simón Tagtachian
White-lined Tanager
Tachyphonus rufus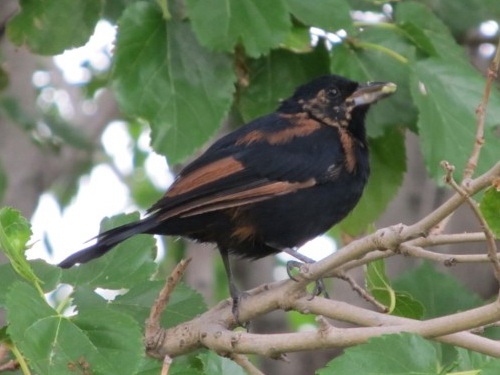 Juvenile male
© Paula Milano y Juan Pablo Muszkats
Camponotus mus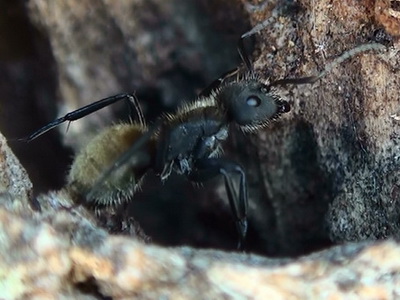 Camponotus mus is black and has short, erect hairs covering all the body. Its abdomen has longer and flattened hairs, which give it a golden colouring. Carpenter ants do not consume wood. They collet sucrose solutions from plants and aphids.
The mound of sawdust was not fortuitous. This was part of the material removed by these ants which were hollowing out the trunk of this live tree. The rest was scattered on the ground.
As long as we stayed there they kept dumping material continuously. They emerged out of the hole, reached the edge, emptied the load and went back. Sawdust was of different sizes, sometimes as long as the ant itself. We put a finger near one of them to have a size reference point. It stayed montionless and showed no aggressiveness. Neither were they aggressive when the earwing passed by. Nevertheless the visit of a wasp did not pass unnoticed. Unluckily the action was not filmed, but the ants near the scene attacked the wasp in unison. The day before a wasp had been laying eggs in the surroundings.
Video © Roberto Ares – Texto: Cora Rimoldi
New Butterfly species: Arawacus ellida

© Roberto Ares

© Roberto Ares
New Butterfly species: Big Lazy
Actinote pyrrha

© J. Simón Tagtachian

© J. Simón Tagtachian
Burst of butterflies at RECS
1 – Southern Buckeye Junonia genoveva hilaris
2 – Fiery Skipper Hylephila phyleus
3 – Claudina Crescent Tegosa claudina
4 – Bella Mapwing Hypanartia bella
5 – Southern Fritillary Euptoieta hortensia
6 – Gulf Fritillary Agraulis vanillae maculosa
7 – Common Lazy Actinote pellenea
8 – Common White-milk Tatochila autodice
9 – Big Lazy Actinote pyrrha
10 – American White-milk Tatochila mercedis vanvolxemii
11 – Southern Monarch Danaus plexippus erippus
12 – Lesbia Sulfur var. heliceoides Colias lesbia
13 – Lyssipoides Metalmark Riodina lyssipoides
14 – Lesbia Sulfur Colias lesbia
15 – Celmis Satyr Ypthimoides celmis
16 – Caulonia Groundstreak Calycopis caulonia
17 – Argentine Checkered Skipper Pyrgus orcynoides

© JST (J. Simón Tagtachian) – © RU (Rosana Ursino)
Limpkin
Aramus guarauna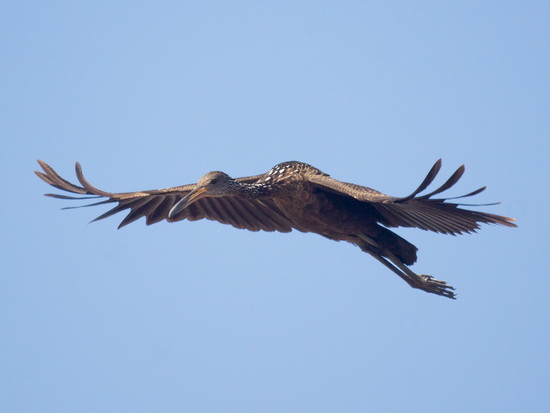 © Pablo Serur
American Kestrel
Falco sparverius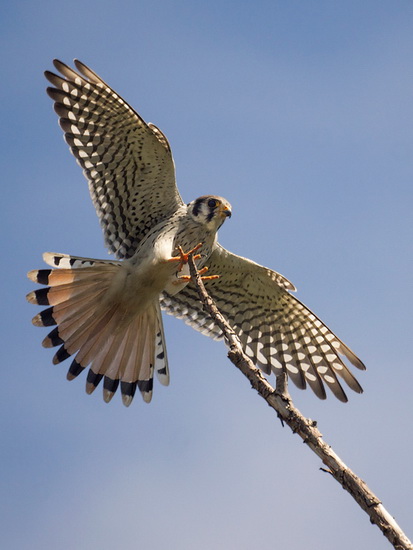 © Pablo Serur
Many-colored Rush-Tyrant
Tachuris rubigastra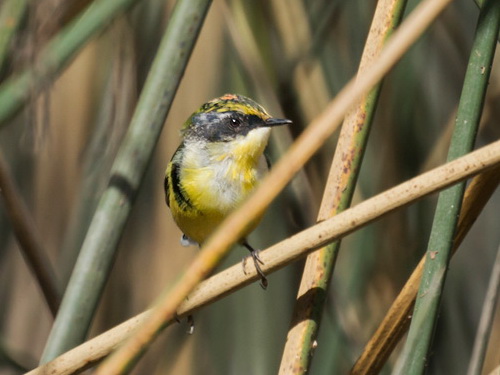 Juvenile
© Pablo Serur
Black-capped Warbling-Finch
Poospiza melanoleuca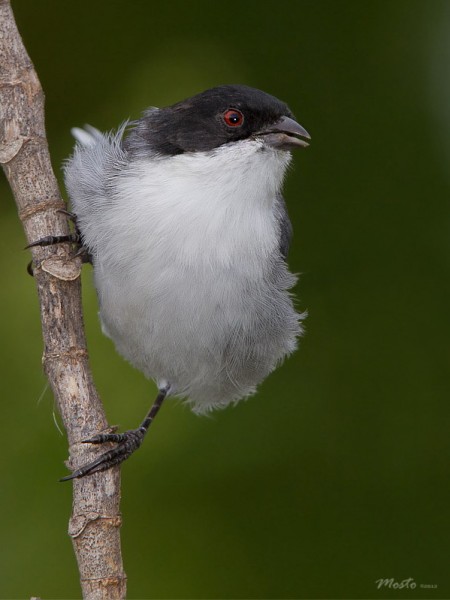 © Pablo Mosto
Blue-billed Black-Tyrant
Knipolegus cyanirostris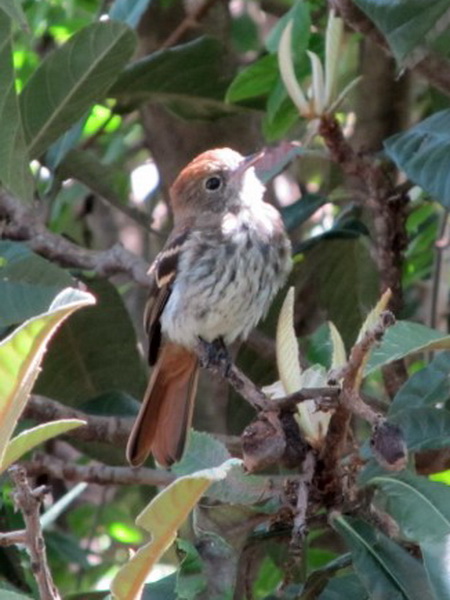 Female (photo taken in February)
© Paula Milano – Juan Pablo Muszkats
Camuati Wasp
Polybia scutellaris
There is an action between two camuatis which is solved by means of circular figures accompanied by vigorous wing beating. Communicational or confrontational act?
Video © Roberto Ares – Text: Cora Rimoldi
Read article
White-faced Ibis
Plegadis chihi
© Pablo Serur
More juveniles
Harris's Hawk
Parabuteo unicinctus

© Pablo Serur

Rusty-collared Seedeater
Sporophila collaris

© Pablo Serur

© Pablo Serur
Checkered Woodpecker
Veniliornis mixtus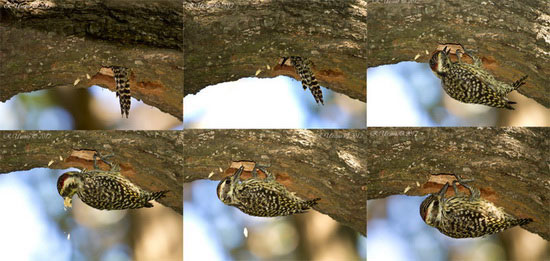 Nest currently under construction
© Rosana Ursino
Fawn-breasted Tanager
Pipraeidea melanonota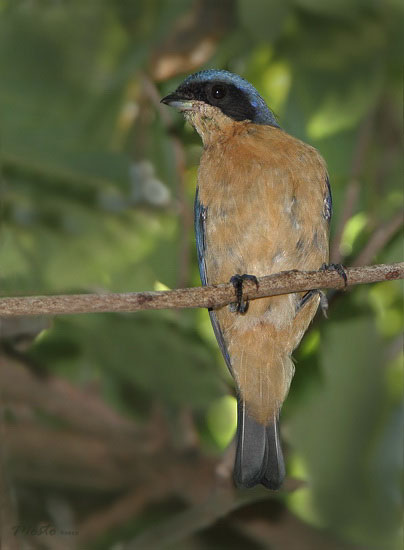 And now an adult
© Pablo Mosto
Getting ready to leave
Brown-chested Martin
Progne tapera

© J. Simón Tagtachian

White-winged Becard
Pachyramphus polychopterusFemale
© J. Simón Tagtachian
White-winged Becard
Pachyramphus polychopterusMale
© J. Simón Tagtachian
Juveniles
Blue-and-yellow Tanager
Thraupis bonariensisJuvenile
© J. Simón Tagtachian
Roadside Hawk
Buteo magnirostris

© J. Simón Tagtachian

Glittering-bellied Emerald
Chlorostilbon aureoventris

© J. Simón Tagtachian

Rufescent Tiger-Heron
Tigrisoma lineatum

© J. Simón Tagtachian
News - March 2012

,