Chotoy Spinetail
Schoeniophylax phryganophila

A species rarely seen at Costanera. This year the chotoy visited us and stayed to breed. The nest was very well camouflaged among the branches of an Acacia caven and covered with climbing plants on top. This "I want to be invisible" behaviour did not let us see much. Its brownish color and its distracting behaviour to go into or out of the nest made the follow up even more difficult. We did not see it leave and, all of a sudden, in it went. The movement of its long tail let us spot it. Some jumps from one branch to another and it got lost in the denseness. It moved so quickly that the video was slowed down to a quarter of the velocity and the bird encircled to be easily visualized. How many chicks? We do not know, but it made several trips to get food.
Video © Roberto Ares – Text: Cora Rimoldi
Solitary Black Cacique
Cacicus solitariusThe nest on the left already has chicks, but at the back there is another nest…
© Carlos Gonzalez Ledo
Red-eyed Vireo
Vireo olivaceus

© Carlos Gonzalez Ledo
Glittering-bellied Emerald
Chlorostilbon aureoventris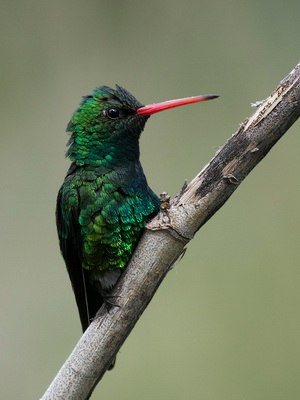 Male
© Pablo Serur
Más registros viejos, especies nuevas para el sitio
Individuos liberados o escapados
Eurasian Collared Dove
Streptopelia decaocto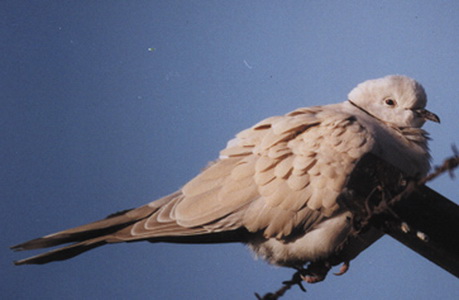 circa 2000 © Roberto Güller
Zebra Finch
Taeniopygia guttata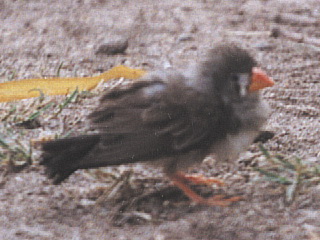 circa 2000 © Roberto Güller
Rufous Hornero parasitized by Shiny Cowbird
Furnarius rufus – Molothrus bonariensis

Every year we find Shiny cowbird chicks being fed by foster parents. This video shows the Rufous Hornero, but other eight species have been recorded photographically at Costanera.
See Species parasitized by Shiny Cowbird
11-2011 © Javier Menendez
White-winged Becard
Pachyramphus polychopetrus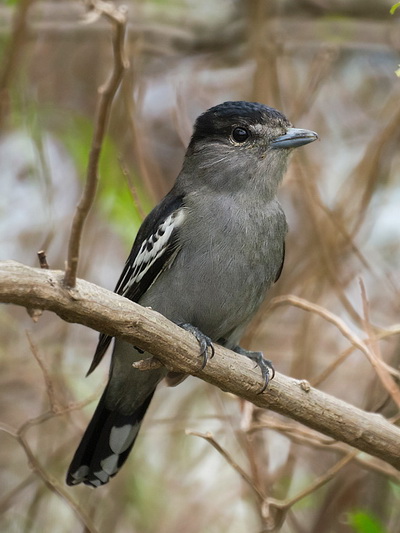 Male
© Pablo Serur
Scarlet-headed Blackbird
Amblyramphus holosericeus

10-10-11 © J. S. Tagtachian

10-10-11 © J. S. Tagtachian

The nest in two stages. Halfway during construction the blackbird is tightening fibres and in the nest
15-10-11 © J. S. Tagtachian
Sayaca Tanager
Thraupis sayaca


© J. Simón Tagtachian

Scissor-tailed Nightjar
Hydropsalis torquata


© J. Simón Tagtachian

On the evening outing of 17th organized by RECS we saw the Scissor-tailed Nightjar and the Sayaca Tanager among other birds. As soon as we went in a heterogeneous group of birds were enjoying a bath in some pools of water on the Lizards Path. By the time we watched the nightjar it was almost dark and flash was not allowed to be used. Anyway the pair of nightjars did not seem to be worried by our presence and we stayed long watching them. They performed acrobatic raids in the air to engulf insects. But the male (bottom) exhibited a curious behaviour. It positioned parallel and head to head to the female, jumped and fell in the same place but looking backwards, then again to the head-to-head poisition. It repeated this figure another couple of times and they both flew away. Courtshipping?
Old records, new bird species to the site
Released or escaped individuals
Tropical Pewee
Contopus cinereus
circa 2000 © Roberto Güller
Many-colored Chaco-Finch
Saltatricula multicolor
circa 2000 © Roberto Güller
Orange-backed Troupial
Icterus croconotus

© J. Simón Tagtachian

Small-billed Elaenia
Elaenia parvirostris

© Carlos Gonzalez Ledo

Rufous Hornero
Furnarius rufusAlmost caught
© Carlos Gonzalez Ledo
Solitary Cacique
Procacicus solitariusNest
© Carlos Gonzalez Ledo
Chalk-browed Mockingbird
Mimus saturninusVery little chicks
© Carlos Gonzalez Ledo
Red-crested Cardinal
Paroaria coronataJuvenile
© Carlos Gonzalez Ledo
Grayish Baywing
Agelaioides badiusFeeding chick
© Carlos Gonzalez Ledo
Checkered Woodpecker
Veniliornis mixtusFeeding chick
© Roberto Ares
Great Kiskadee
Pitangus sulphuratusWaiting for a bit
© Roberto Ares
Golden-billed Saltator
Saltator aurantiirostrisThis juvenile already feeds by itself
© Roberto Ares
Scarlet-headed Blackbird
Amblyramphus holosericeus

© Carlos Gonzalez Ledo

Bran-colored Flycatcher
Myiophobus fasciatus

© Roberto Ares

Eared Dove
Zenaida auriculataSome are still courtshiping
© Carlos Gonzalez Ledo
Eared Dove
Zenaida auriculataReusing a mockingbird's nest
© Cora Rimoldi
News - December 2011

,