Urutu Pit Viper
Bothrops alternatus
© Marcelo Gavensky
Red-eyed Vireo
Vireo olivaceusAnother summer vistior
© Pablo Serur
Harris's Hawk
Parabuteo unicinctus

© Fernando Prado
New bird species: Green-backed Becard
Pachyramphus viridis
Female. Seen on the Middle Path 50 metres far from the coast
© Pablo Serur
Ash-colored Cuckoo
Coccyzus cinereus

© Pablo Serur

Bran-colored Flycatcher
Myiophobus fasciatus

© Pablo Serur
Streaked Flycatcher
Myiodynastes maculatusAnother summer visitor arrived
© C. y D. Bastías
European Starling
Sturnus vulgarisAtypical
© C. y D. Bastías
Grayish Baywing
Agelaioides badius

© Carlos Gonzalez Ledo

Whistling Heron
Syrigma sibilatrix

© C. y D. Bastías
White-tipped Plantcutter
Phytotoma rutilaFemale
© Fernando Prado
Golden-billed Saltator
Saltator aurantiirostrisIncomplete black ring around buff throat
© Carlos Gonzalez Ledo
Rufescent Tiger-Heron
Tigrisoma lineatum
10-10-11
© Carlos Gonzalez L.
15-10-11
© C. y T. Di Mauro
17-10-11
© Carlos Gonzalez L.
Fork-tailed Flycatcher
Tyrannus savanaAnother summer visitor has arrived at Costanera
© C. y T. Di Mauro
White-barred Piculet
Picumnus cirratusThe female is always spotted. Is there a male?
© C. y D. Bastías
Feeding on the wing
Gray-breasted Martin
Progne chalybea

© Fernando Prado

Great Kiskadee
Pitangus sulphuratus

© Carlos Gonzalez Ledo

Two birds representative of two families which feed in flight


The Gray-breasted Martin (Family Hirundinidae) and the Great Kiskadee (Family Tyrannidae) catch insects in flight but show behavioural and morphological differences. The Great Kiskadee sits still on a perch till it sees the prey, flies out to catch it and flies back to the same or a nearby place to eat it. Its bill is strong and has a hooked tip. Swallows feed on the wing. They are moving and so are insects, so a huge mouth is more appropriate to engulf preys. Their bills are short, broad and gape widely.
Green-barred Woodpecker
Colaptes melanochlorosBuilding a nest
© C. y D. Bastías
Scarlet-headed Blackbird
Amblyramphus holosericeus

© J. Simón Tagtachian

Southern Caracara
Caracara plancusWith a rat
© C. y D. Bastías
Ultramarine Grosbeak
Cyanocompsa brissoniiEating Morus alba's fruit
© Fernando Prado
Glittering-bellied Emerald
Chlorostilbon aureoventrisMale
© C. y T. Di Mauro
Sooty-fronted Spinetail
Synallaxis frontalis

© Carlos Gonzalez Ledo
Southern Caracara
Caracara plancus
Photos by José Luis Merlo

A typical scene during the breeding season. The Southern Caracara, a very terrestrial raptor, chooses material for the nest. It pulls the piece, tears it off and curls it to carry it more easily. With the branch held tightly in the bill it takes off and flies straight to the nest.
Tropical Kingbird
Tyrannus melancholicusThe first to arrive
© J. Simón Tagtachian
Small-billed Elaenia
Elaenia parvirostris

© Pablo Serur

White-banded Mockingbird
Mimus triurusRarely seen at this time of the year
© J. Simón Tagtachian
Sayaca Tanager
Thraupis sayaca

© J. Simón Tagtachian
Glaucous-blue Grosbeak
Cyanoloxia glaucocaerulea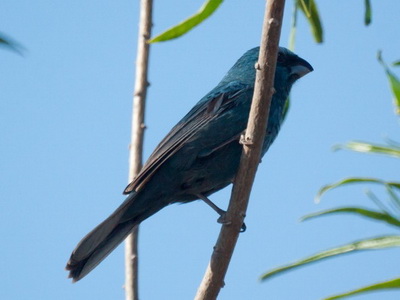 This is a last year's photo, but it is worth adding it to the list.
© Pablo Serur
Ringed Kingfisher
Megaceryle torquata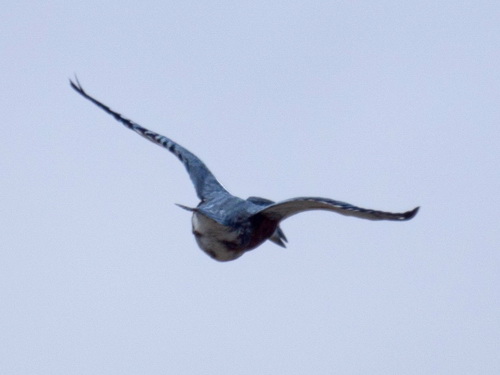 It is true this male is flying away but we hope it will come back soon
© Pablo Serur
Long-winged Harrier
Circus buffoni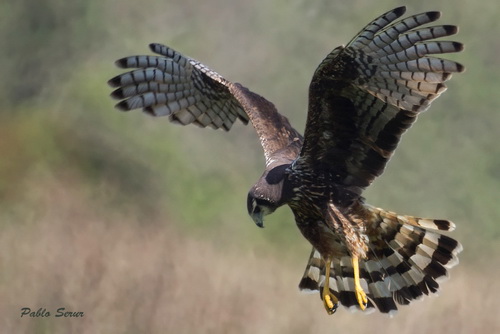 Adult (Dark Morph)
© Pablo Serur
Chotoy Spinetail
Schoeniophylax prhyganophilus
More photos of the Chotoy Spinetail
© C. y D. Bastías
which seems to be staying with us for a while
© C. y D. Bastías
Rufous-sided Crake
Laterallus melanophaius

© Carlos Gonzalez Ledo

Masked Yellowthroat
Geothlypis aequinoctialisMale
© J. Simón Tagtachian
Great Pampa-Finch
Embernagra platensis

© J. Simón Tagtachian

Yellow-browed Tyrant
Satrapa icterophrys

© J. Simón Tagtachian
Yellow-winged Blackbird
Agelasticus thilius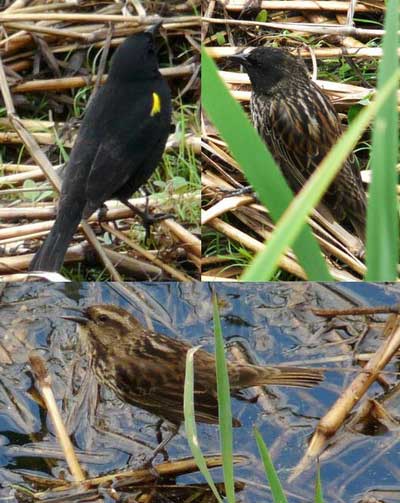 At Coipos a flock of many individuals.
In the photo: Top, an adult male and a juvenile male, bottom, a female
© Carlos Gonzalez Ledo
Vermilion Flycatcher
Pyrocephalus rubinusMale
© Fernando Prado
Long-winged Harrier
Circus buffoniFemale (Light Morph)
9-11 © Carlos Gonzalez Ledo
White-faced Ibis
Plegadis chihiIn V formation
9-11 © Carlos Gonzalez Ledo
Maguari Stork
Ciconia maguariA group of more than forty individuals was seen moving in south-north direction
9-11 © Carlos Gonzalez Ledo
Chotoy Spinetail
Schoeniophylax phryganophilus
© Roberto Ares
News - October 2011

,